As Veterans Day nears, Door County Farm owners reaffirm mission to support veterans
FORESTVILLE — Jake VandenPlas spent countless hours in therapy for post-traumatic stress disorder.
But the most effective treatment turned out to be farming.
"Being out there getting my hands in the dirt, being able to see something go from being a seed to a tomato plant and nurturing it along the way," he said. "Those experiences have been more helpful than any form of therapy the government was ever able to provide me. Farming has done a lot for me."
VandenPlas, 34, is a former staff sergeant with the Wisconsin Army National Guard who devoted 13 years to the military. During two consecutive tours in Iraq starting in August 2005, he endured multiple blasts from improvised explosive devices over the course of months that eventually forced him to be medically evacuated.
Although still battling the effects of brain injuries from the blast shockwaves, Jake said he and his wife, Emily, are determined to forge ahead.
With that in mind, the couple re-established their rural roots last spring by buying a 40-acre farm just south of Sturgeon Bay and naming it Door County Farm. Their inaugural growing season saw them raise more than 40 varieties of produce using sustainable, organic techniques. Along the way, they fed 10 families through a community-supported agriculture program.
But what distinguishes Door County Farm even more is its higher purpose of one day providing a place for fellow veterans to live on the farm as they help grow crops and re-adjust to civilian life.
"I want this farm to be a safe haven," Jake said, "because when you're coming home from overseas, you don't always have a lot of money. Some guys are completely starting over from scratch. It's tough mentally. It's tough financially. This will give veterans a place to go.
"I know from experience that the process of coming home was more difficult than combat. They train you for combat. They give you all the tools you need to survive. But they don't train you how to come home, which is what the fallout is for a lot of soldiers. That's how it was for me."
Childhood
Jake was raised in an old farmhouse his parents, Curt and Kathy VandenPlas, bought near the town of Abrams in rural Oconto County.
"We had chickens and pigs and some cows, but it was more of a hobby farm," Jake said. "But I loved it. Just being involved with the animals was great. Watching animals grow is the coolest part.
"What's really nice now is the things my dad taught me, I'm going through the exact same things with my sons (Nathan, 10, and Kayden, 7)."
Emily also enjoyed the outdoors. She grew up in Kewaunee, where she spent time working on farms and gardening.
The military
Two weeks after graduating from Oconto Falls High School in 2002, Jake was enduring the rigors of 16-week basic training and advanced individual training at Fort Benning, Ga.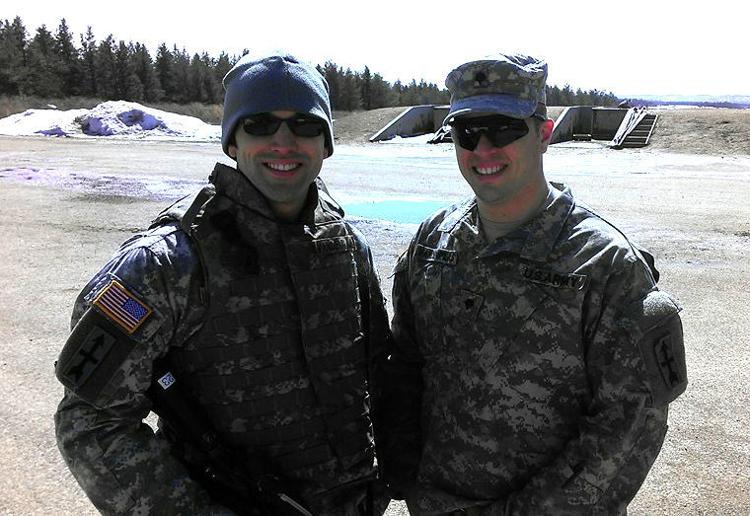 Upon completion, he returned home and started his career as an electrician. As a member of the Wisconsin Army National Guard, Jake also trained one weekend per month and two full weeks per year.
In June 2005, he was deployed to Camp Shelby, Miss., and by August he was en route to Camp Navistar, Kuwait, on the border with Iraq.
"We ended up going on convoy missions all over the theater of operations," Jake said. "I went through all the major cities — Baghdad, Ramadi, Fallujah, Mosul. Went into the Green Zone. We put on lots of miles in some dangerous places."
Jake's first tour was with B Company 2/127th Infantry Battalion out of Green Bay. He voluntarily stayed for a second tour, joining the replacement unit, C Company 1/121st Field Artillery out of Sussex. Overall, he spent two years overseas.
Throughout his deployment during Operation Iraqi Freedom, Jake said he and his fellow soldiers endured IED blasts on "numerous days." He ended up getting flown out of Iraq due to concerns about a brain injury.
"That's how it was traveling on those roads, always the risk of IEDs," he said. "I've got that and some PTSD (post-traumatic stress disorder). Everything that an infantryman should have hurting, it hurts — knees, hips, back."
Coming home
Since returning home, Jake said his body doesn't climatize to the weather conditions like before. Getting a sound night's sleep was nearly impossible for months. And explosions from things like fireworks remain troublesome.
But the most challenging transition occurred in the weeks immediately after leaving Iraq.
"They sent me to Germany for a couple weeks," he said. "Then I came through Walter Reed (National Military Medical Center) and then spent about three months at Fort Bragg in North Carolina. Sitting there in that hotel room every day, that was so painful. It's hard to explain how hard that was.
"I don't want other guys to go through that. That's why this other building we have on the farm, the granary, we're going to transition that so we can house veterans either in that specific situation or a veteran who's struggling or homeless. That's a huge part of this farm — being able to get other veterans out here."
Jake said his full-time job as a traveling contractor should enable him to transition into a full-time position on the farm within the next two years. Once that happens, the couple said, the farm will be available to veterans. In the meantime, Jake and Emily are preparing to file nonprofit paperwork and finish renovations to the granary.
Planting the seed
Last year at this time, Jake and Emily were living in Kewaunee. He also was enrolled at UW-Green Bay with the goal of pursuing a degree in business.
"One of the classes I took was environmental science," Jake said. "I always wanted to grow my own garden, get our own food. And we watched a movie about corn that was interesting."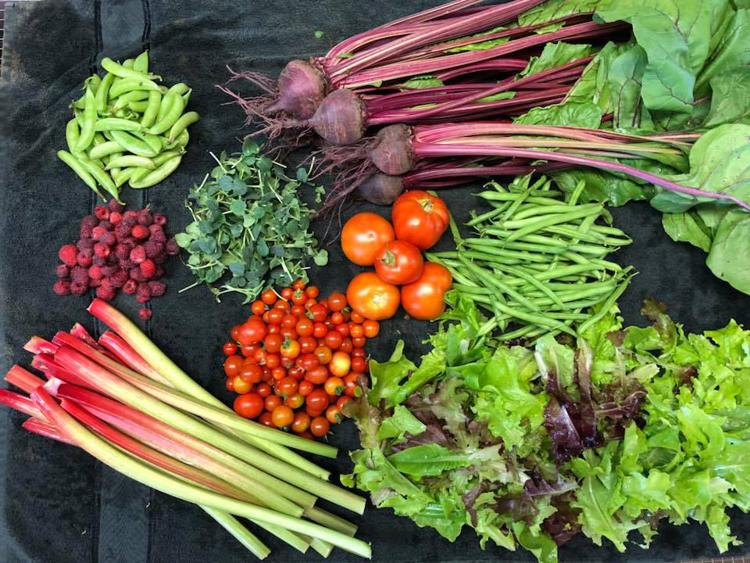 While driving to work one morning in the days leading up to Thanksgiving, Jake noticed a "for sale" sign by some greenhouses along his route.
"I called the realtor and they said, 'It's not just the greenhouses, it's the whole farm that's for sale,'" Jake said. "So on Black Friday last year, we came and looked at it for the first time."
Although Emily said she was a tad skeptical at first about buying a farm, she said they both fell in love with the property. Working with Veterans United, a VA-approved lender, the couple bought the farm, which dates back to the 1800s.
"We moved in the first week of March, unpacked the second week and started planting in the greenhouse the third week," Jake said. Three weeks later, Blizzard Evelyn pummeled Door County with about 30 inches of snow, but the damage was limited to some tomato plants.
The farm
The couple received assistance during the transition from the farm's former owners. They also watched YouTube videos and relied on their respective experiences growing up in farm environments.
In addition to more than 40 varieties of produce, the farm houses 20 chickens that are used for pest control and providing eggs. An old milking parlor was repurposed as a place to package shares for the farm's CSA (community-supported agriculture) program.
"There's a one-time payment up front, and fresh produce is delivered to their door each week," Jake said. "Some days are longer than others for us, but it's not a problem.
"Those long days overseas helped prepare me for the farm. We didn't have eight-hour days or 10-hour days or 12-hour days. We had 36-hour days. We had 72-hour days."
Door County Farm offered two CSA package options this year, but it intends to reconfigure into four packages next year based on customer feedback. In addition, the couple plans to redefine areas of responsibility, with Jake handling the farm stand and CSA program and Emily focusing on microgreens and transplants.
"I think we learned a lot this year," Emily said. "We learned to complement each other and compromise on some things."
Added Jake: "Another change for next year is to run it like a business, not a farm. Create a business plan detailed enough that you just have to execute it. You don't have to guess. You don't have to worry. You have a planting schedule and execute that schedule. And instead of hoping Mother Nature cooperates, use the tools of the trade — like put a miniature greenhouse over the top of them to help expedite the growing process."
The couple's parents — Curt and Kathy VandenPlas of Abrams and Dale and Marti Patterson of Kewaunee — also were instrumental in the first-year success of Door County Farm.
"We couldn't have done this without their help," Jake said. Emily noted that since spring, at least one of the parents has come over almost every weekend to lend a hand.
Jake said another person has been invaluable.
"Emily is great. She lets me be me and lets me make my mistakes. It's always painful for a husband to tell his wife that's he's wrong, and that happens a lot with me," he said, eliciting a laugh from each of them.
For more about Door County Farm, visit www.doorcountyfarmllc.com or see its Facebook page.