TOWN OF BELOIT — Retired farmer Mark Schultz has had the same view from his farmstead out across West Creedy Road for more than 60 years.
He sees acres and acres of the neighbors' fields.
This year, it's green soybeans as far as the eye can see — all the way up a gently rolling hill that rises to the south. But after this year, and for probably the next 30 years, Schultz might have to get used to different scenery.
Schultz is among hundreds of rural residents in southern Wisconsin who are witnessing the sudden blooming of a new type of crop — solar power.
By summer 2022, Alliant Energy hopes to have state approval to break ground on a new 500-acre, 65-megawatt solar energy farm named Paddock Solar. The project would fill the fields across the road from Schultz's property with scores of solar collection panels that Alliant will tie into the existing Paddock electrical substation nearby.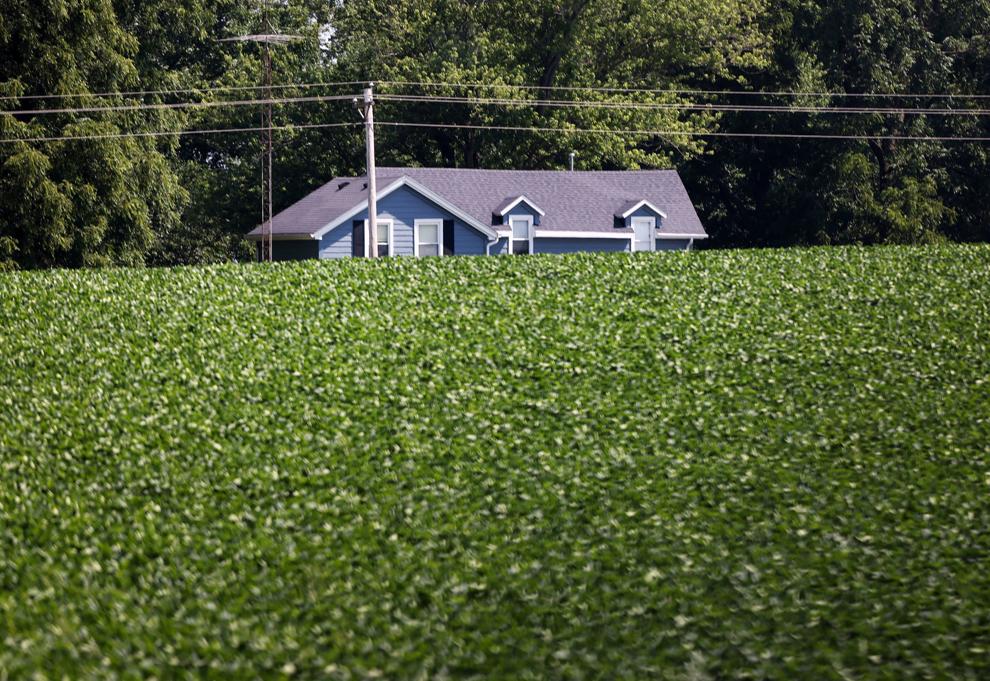 As power companies push to increase their holdings of inexpensive forms of alternative energy sources, they've turned to solar farm developers.
A flurry of solar projects filed over the last few years with the Public Service Commission, the state's utility regulator, shows that Alliant, other utilities and energy developers are seeking approval for at least 4,000 acres worth of solar farms in Rock, Walworth, Jefferson and Green counties.
A big share of the six proposed solar farms proposed throughout those four counties would have Alliant as the utility at the helm, according to PSC documents and Alliant officials.
It's part of a push by the company to retire some of its aging coal-fired power plants and boost its green energy portfolio. By 2023, Alliant hopes to bring 1,000 megawatts of solar-power- generating capacity to the fold — a shift that would make solar account for about 20% of Alliant's electrical capacity overall.
In Rock County, Alliant plans to break ground as soon as next month on North Rock Solar, a similarly sized project that would spread solar panels across 440 acres. Another much larger, 250-megawatt farm is in the works in the town of Darien on the Rock-Walworth county line.
In southern Wisconsin, the bulk of the solar farms being proposed would be sited on current crop land that utilities would lease from farmers for 25 to 30 years, the typical lifespan of a solar project.
Changing landscape
Residents like Schultz, who are neighbors to such projects but aren't landowners involved in lease negotiations for big solar farm projects, say they're concerned about solar projects like Paddock that would alter the landscape and pull large chunks of farmland out of production for decades.
Advocates for solar energy have pointed out that the amount of acreage of solar farms needed to meet many private utilities' green energy benchmarks would pull only a fraction of the state's available farmland out of production.
Schultz says he'll likely spend the rest of his life with a ringside seat to hundreds or thousands of solar collecting panels spread across a swath of land that holds some of the town's top crop-producing soil.
"If it came down to it, I guess I'd rather see solar (panels) across the road than some big, new residential subdivision," Schultz said.
"But I've been here my whole life. So this is a big change. I know it's really good farmland. That's my thing. It's not that I'm totally against what they're doing. It's just really good farmland," he said.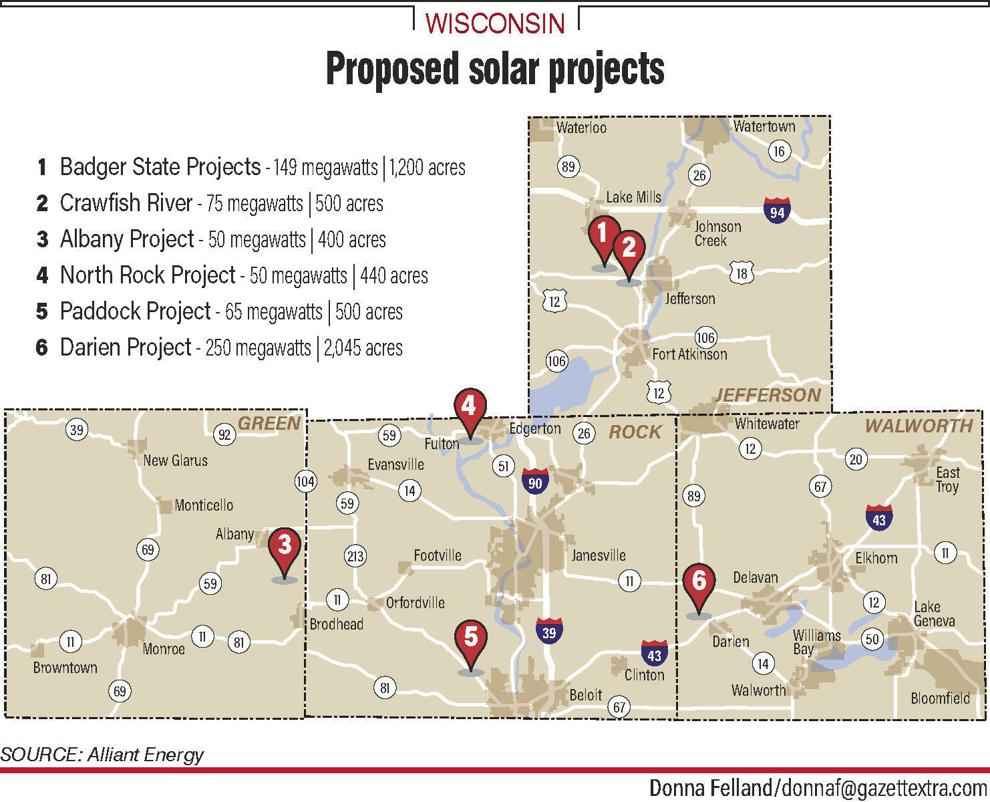 Lease deal
Schultz's neighbor along West Creedy Road, Wade Sweger, told The Gazette he's among landowners who plan to lease farm property to Alliant for the Paddock project.
Because of confidentiality agreements with Alliant, Sweger said he is limited in what he can say about the project or the specifics of his lease arrangement.
Sweger wouldn't divulge what his lease would pay, but he said that solar farm developers or the utilities that own the projects "do pay quite a bit" in rent as incentive for taking the land out of crop production for years.
Part of a property Sweger owns could house a substation that would be geared to run power from the solar plant out to utility lines on Nye School Road. Sweger said he negotiated to have large substation infrastructure located in spots that would be screened from view by neighbors.
"I tell people that I'm involved with the solar project and they kind of just shrug their shoulders. But personally, I'm trying to do it in such a way that it's good for the neighborhood. The developer had different situations where they wanted to put this here and that there. I've negotiated to make sure that they're going to put things where it's the best for the neighborhood."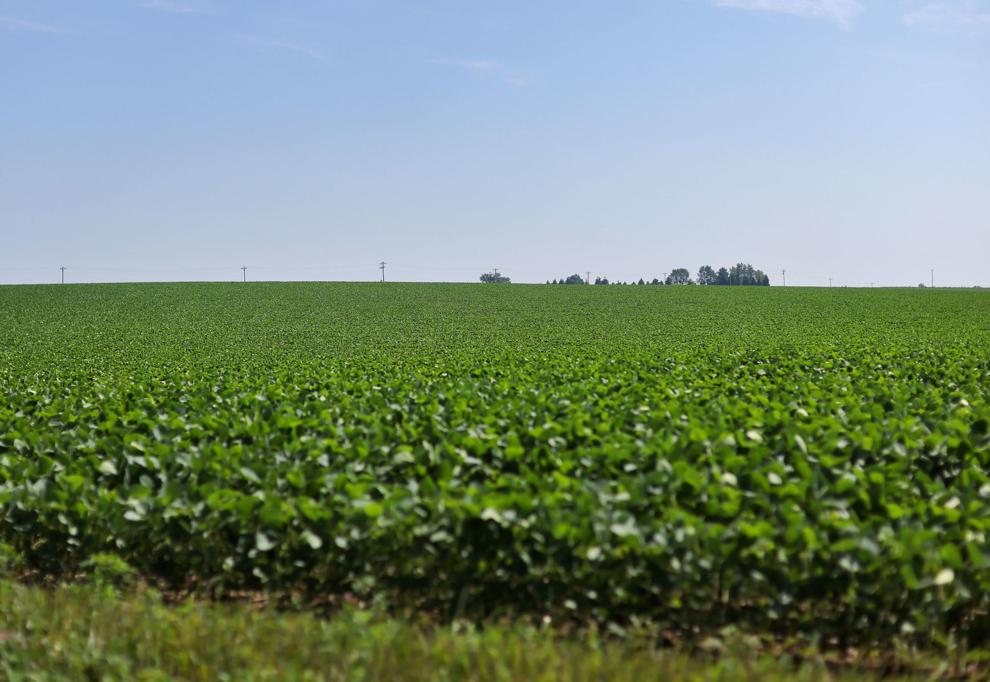 What's going on? And when?
Alliant announced in the fall of 2020 it intended to take on several new solar projects in southern Wisconsin over the next few years. At the time, that included the Paddock proposal. But Alliant officials declined last fall to share exact locations of where the arrays of solar panels would be located, pending land lease talks with property owners.
Schultz said he has not heard much talk about the project at the town or county level. Town of Beloit officials told him earlier this year they had seen no zoning approval requests, and it wasn't until late May that the Public Service Commission sent landowners in the town notice of an application for Paddock Solar.
He said he learned in February that the solar farm was coming together through farm owners' land leases to Alliant. He only learned of the plan when he approached a consultant out in nearby fields who told Schultz he was doing "noise testing" for a new solar farm.
"Before that, apparently nobody knew about it except for the guys that the (Alliant) people were signing on with for leases," Schultz said. "My neighbor down the road worked for Alliant at one time. Months back, that guy called Alliant and asked about the project. Alliant at that time told him 'What Paddock project?' But then in May, we get a paper in the mail that says it's coming."
Chase Coleman, an Alliant Energy spokesman, said the Paddock site was chosen both because of its proximity to an existing electrical substation, but also because the farmland along Creedy Road has enough elevation that most of the land stays relatively dry.
Construction would take about 18 months, Coleman said. Pending approval by the PSC and local authorities, it could put Paddock in line for completion and power production by late 2023.
Alliant still needs Rock County and town of Beloit zoning approval, including a conditional-use permit — processes Coleman said likely will allow the project to be rolled out later this summer with public open houses by Alliant to explain the project to neighbors.
Under state rules, solar farms generating less than 100 megawatts fall under the zoning purview of towns or county governments if those governments have special zoning requirements for solar farms. Town or county consideration of solar proposals tend to outpace the PSC's environmental and regulatory decisions.
Alliant officials don't expect a ruling on Paddock until spring 2022, Coleman said.
Coleman said as Alliant wades deeper into solar projects, the company is becoming familiarized with the concerns of those who live nearby.
Common concerns
He said the most common concern from adjacent landowners is that solar panels alter the appearance of the land.
"They say, 'We've been staring at this land for our entire lives. It hasn't changed. And now you're going to change it.' There's really no good answer to that," Coleman said. "That's the simple fact that's probably the one biggest negative side effect of a solar farm is that we do have to put panels on the ground."
In siting solar farms, Coleman said, Alliant has begun discussing measures such as tree or vegetative plantings that can screen or minimize some of the visual impact of solar panels on the land.
On the other hand, Coleman said that landowners who lease farmland for long-term solar farms see a windfall at a time in which Wisconsin farmers have seen price fluctuations for crops, economic turmoil and above-average rates of bankruptcy.
"For the vast majority of folks we deal with, it's economic stability and hope for families and their farms throughout a 30-year lease that the project is under," Coleman said. "That's stable income for that farm and that family for those decades to come."