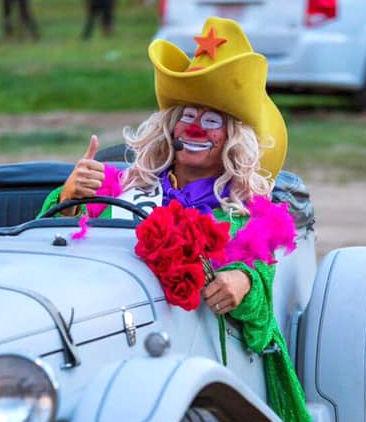 John Harrison's job isn't what you'd call typical.
One minute, he's ducking into a barrel, holding on for dear life as an angry bull lowers its head, charging full speed in his direction.
The next minute, he's smiling and waving to adoring fans while wearing a long, green dress and sporting a curly blond wig beneath a ridiculously large cowboy hat.
That's life as a rodeo clown.
Harrison, 40, of Soper, Okla., is in his 18th year traversing the country in that role. This season he's covering 17 states from January to October.
Next on his schedule he'll be making his fifth appearance at the Midwest Horse Fair, set for April 12-14 at Alliant Energy Center in Madison. Harrison will be part of the Professional Rodeo Cowboys Association Rodeo, which performs opening night.
"I'll go to Las Vegas for the rodeo and do interviews out there, and they'll ask me what's my favorite place to rodeo," Harrison said. "Everybody is expecting a big one, like Reno or Houston or something like that. And those are nice.
"But I tell them Minnesota and Wisconsin are truly my favorite places to rodeo. I'm being honest here too. I tell everybody about Madison, Wisconsin. I love that place. People come to have fun there, and that makes it great for me."
In turn, Harrison strives to make it great for fans, as evidenced by multiple PRCA Comedy Act of the Year honors. His comedy trick riding act is a favorite for both Harrison and fans.
"I've got a horse named Gus and he's 23 years old, and he's got lots of personality," Harrison said. "It's one of those acts I know when the crowd is kind of tough, I can do that act and they'll enjoy it."
He said changes in society over the past 15 to 20 years have made him more aware of what types of comedy may be deemed acceptable.
"Everybody is kind of in the 'don't offend me' mode," he said. "You have to be careful as a comedian not to make somebody mad, because most comedy usually is at someone's expense."
Harrison gauges the success of his performances on crowd participation and appeal.
"My basic rule is if I'm having fun, they're having fun," he said. "We all have our problems in life, whether it's financial or a relationship or work or whatever.
"But when someone comes to a rodeo and they can get away from life for a little while and have fun, and they laugh in those stands, that's great. When I leave a rodeo and I feel the crowd was energetic and fun and had a good time, that was a success."
Having fun is only part of Harrison's job. He also helps protect bull riders from serious injury by redirecting the attention of the powerful animals in the arena. Harrison takes that aspect of the job seriously because of his desire to help fellow rodeo professionals, the potential danger and his family roots in the sport.
His late grandfather, rodeo legend Freckles Brown, was a world champion bull rider immortalized in country western songs by conquering the "unrideable" bull Tornado many years ago.
"Bulls are nothing to be taken lightly," Harrison said. "I've got two herniated discs in my neck right now, because when you're in that barrel and get hit it's like being in a car wreck. You have to brace, and if you're not braced well enough that's what happens.
"I was braced, but the bull hit the barrel so hard that time it knocked me loose, then he hit it again. Kind of gave me whiplash. So my neck hasn't been that good for the past couple of years. But I fight through it and keep going."
Harrison stays down tucked in the barrel until he's sure the bull is gone. Although there's one inch of cushion in the barrel, he said, "I'm not going to say in any way that it's comfortable in there."
"The older you get, the harder things become," he said. "Instead of doing a roundoff back handspring for an opening, now it's just the roundoff — and that even hurts sometimes. I've had two knee surgeries and a shoulder surgery, so the more injuries you have the longer it takes to heal up."
Harrison grew up interested in rodeos and horse riding. His first trick riding lesson came at about the age of 6. From there he added Roman riding and trick roping to his repertoire. He steadily progressed and received his PRCA card in 1999.
"I started to realize that every rodeo hires a clown, but not every rodeo hires an act," he said. "So in order to stay busy and stay in the business, I figured out pretty quick that if I was going to make a living I'd have to start doing some comedy. So just a couple years into my having my PRCA card I went the rodeo clown route, and I've been doing this and barrelman since then."
Harrison married his wife, Carla, in 2006. They have three children: daughters Addison and Charlee, and a son, Cazwell. Another daughter, Billie, died in October 2014 at the age of 18 months due to a health condition.
The rodeo community rallied around the Harrison family after her death.
"Rodeo people are some of the very best people around," Harrison said. "When we lost our daughter, the rodeo family came together like no other with support. They came from all over the United States and were there for us. We'll always remember that."
Harrison said it's difficult being away from his family during shows, but he's fortunate that much of the time his family is able to travel alongside him.
His young son has aspirations of becoming a professional baseball player when he gets older.
When asked what he'd say if the youngster instead wanted to be a rodeo clown, Harrison said, "I'll tell him, 'Go for it, buddy.' The people that you meet, they're unbelievable, they're family.
"The rodeo is truly fun and being able to travel is great. It's opened lots of doors, from getting a private tour of the White House at 2 o'clock in the morning to going to pretty much every national park out there. That end of it is something that money can't buy — being able to spend time with family on the road and see things.
"I just think being a rodeo clown is a great way to make a living. I love it."
Harrison doesn't intend to put away the blond wig anytime soon.
"My wife and I joke that we just built a house and financed it for 30 years," he said, adding with a chuckle, "so I don't see an end in sight."