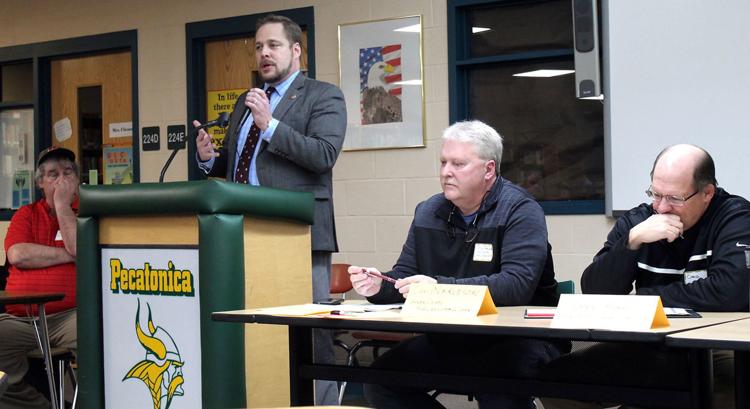 BLANCHARDVILLE — While many in the community of Blanchardville were supporting the girls basketball team at the Pecatonica High School the evening of Jan. 27, about 50 concerned residents in rural Iowa, Green, Dane and Lafayette counties were also gathered at the school, raising their voices for something else they in the community have been passionate about — rural roads funding.
"They call this the Driftless Area but it could be called the 'Forgotten Area,'" said Mike Berg, a rural Lafayette County resident that organized the recent meeting on rural roads in southwest Wisconsin. "They could call it that because we've been forgotten for too long."
Not only is Berg fed up with the poor condition of his county's roads and the lack of sufficient available funding to fix them, but he's also made it his passion to get better access to U.S. Highway 151 from his community, whether that be via State Highway 78 or County Road F.
"Small towns are being forgotten and no one wants to live here if the roads are bad to Madison, where many of the jobs are located," he said. "Just to have a road to 151 that's a good road would help."
Others who attended also shared their concerns with the poor quality roads and lack of funds to fix them locally, expressing their thoughts on everything from safety to declining school enrollments.
"I'm concerned about Lafayette County," commented Maryellyne Rear, an Argyle resident. "What's going to happen to our businesses? What are we supposed to do if we don't have roads that come here?"
"Highway F is an artery that runs through our school district," said Jill Underly, Pecatonica School District administrator. "This is economically imperative to this region."
Julie Dochnahl drives County F up to six times a day with her kids; she also serves as an EMT, often times using the road to reach emergencies with her ambulance crew. She said it's scary when the ambulance meets a school bus, snow plow or semi on the busy but broken-up road as drivers never know if they have enough room to get by.
Her husband, Grant Dochnahl, is also an area firefighter, and expressed his concern.
"It's a scary stretch of road and the most used thoroughfare to Hollandale," he said. "I would think anyone serviced by EMS would appreciate timely and safe service."
Highway commissioners from both Green and Iowa counties shed a bit of light on each county's funding situation — and just how dire these situations may be.
Green County Highway Commissioner Chris Narveson said he recently went back in his records to see how much state transportation funding came into the county 10 years ago. In 2010, Green County saw $1.6 million more than what is being funded today, even with a $20 wheel tax collected annually on every vehicle registered within the county.
"We're all in trouble, not just the county but the municipalities," he said. "We're in a rural area with declining populations. How do we fund these projects with a negative amount (from the state funding formula)?"
Craig Hardy, Iowa County Highway Commissioner, said his county faces a lot of the same problems as Green County. He also looked back in his records to 2009, a year after he started as highway commissioner, and found the county also received more funding in 2009 than it does today.
Iowa County also has a $20 wheel tax for all registered vehicles, which provides the county with $420,000 annually in revenue. All of that money goes into the county's bridge repair program, with Hardy adding that most bridge repairs wouldn't get completed if it wasn't for the wheel tax dollars as he uses those dollars to match state funds that are available for transportation projects.
John Meyers, Iowa County Board chairman, said County F has a $4.5 million price tag, with the design phase costing $700,000 alone. The County F project first went into the queue for road projects in 2010; in 2015, there was a meeting with Wisconsin DOT and it was thought County F would be slated for construction in four to five years.
Now in 2020, "we don't know when we'll fund it," said Meyers. Iowa County has plans to apply for another transportation grant in 2021, but knows it can't tackle the project at the county level alone.
"We're in a squeeze, in a pinch. And the magic bullet, I just don't see one," he said. "We're in a financial hole and an infrastructure hole. We're literally digging a deficit each year because we aren't maintaining our infrastructure."
Meyers added that his service to the county board and his community comes from his desire to leave the county in better shape than he found it — something he feels is getting harder and harder to do.
Wisconsin Department of Transportation Assistant Deputy Secretary Joel Nilsestuen listened attentively while government officials and residents aired their frustrations.
"You're not the first group to put something like this together," he said. "It's a common need we see throughout the state."
He explained that municipalities from all corners of the state have been applying for state road funding grants and appropriations, adding that a recent round of applications garnered interest from 1,600 county and regional entities. The projects equaled over $1 billion total.
Nilsestuen also commented on Gov. Tony Evers' desire to raise the state gas tax, which hasn't been raised in 14 years. The governor's proposal was shut down by the state legislature, but pieces of it did make it into the biennial budget, including an increase in funding for southwest Wisconsin road projects.
"Obviously it's still a need. The budget was a first good step but not a cure-all," he said. "It's a good amount of revenue going in but I encourage you to keep talking to lawmakers."
While raising the gas tax has seemed to be an unpopular idea among Wisconsin residents, those gathered at this meeting were in resounding favor of the raising the gas tax, as demonstrated by Iowa County supervisor Mark Storti, who asked those in the crowd to stand if they'd support a gas tax raise.
State Sen. Jon Erpenbach, D-West Point, who was also in attendance, shared his personal support for raising the gas tax. He added that he's not surprised by what he'd heard that evening.
"I'll continue to push for the gas tax," Erpenbach said. "I believe it's the fairest way to deal with our current situation."
He added that southeast Wisconsin has gotten a lot of the state's transportation dollars for a long time, but feels it's time to give more dollars to local governments to address their own roads, and it's time to tell legislators there is support to increase the gas tax.
Rep. Sondy Pope, D-Mt. Horeb, encouraged people to keep talking and sharing their thoughts with legislators as well. She said her main takeaway from the meeting will be the almost unanimous support of raising the gas tax.
"At the end of the day, it'll come down to the gas tax and it'll take bipartisan support," Erpenbach said. "There are a ton of County Fs in the state and every county is struggling with this, but we'll do what we can for F and the roads in our district."