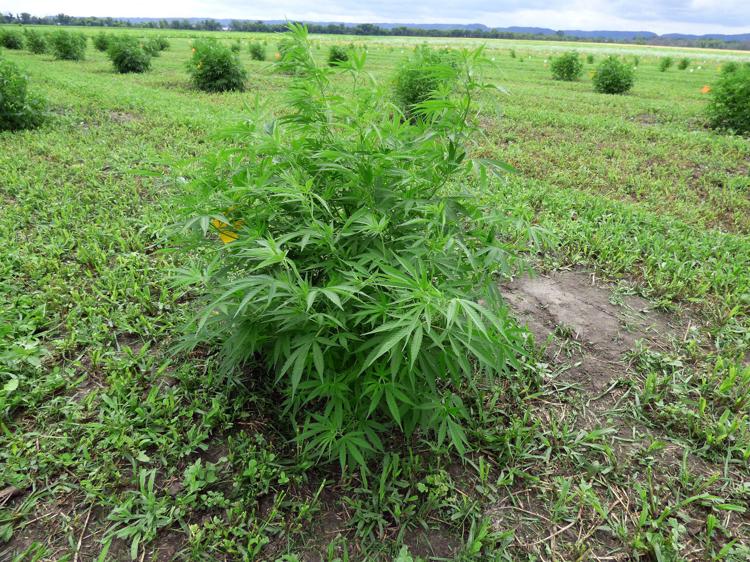 DARLINGTON — Despite efforts to prohibit marijuana establishments in Lafayette County, including the prohibition of hemp and CBD oil sales, interest in hemp cultivation continues to grow in the county, with about 50 people attending a recent meeting on industrial hemp, geared particularly for CBD production.
According to Joshua Kamps, Lafayette County UW-Extension agriculture educator, there are 463 licensed acres of industrial hemp in Lafayette County this year; however, it is unknown if those acres have all been planted and if they are all being cultivated for CBD, but Kamps believes it is likely the majority of those acres are for CBD production.
"The soil has done well for hemp so far this year," he said, although the county hasn't been void of insect and disease pressure for this newly re-introduced crop.
In Lafayette County, Kamps has identified the presence of the Eurasian hemp borer, the cannabis aphid and the flea beetle. Some damage was reported with these insects, but none of them appeared to hang around the fields for too long, he said.
Bigger issues have arisen with downy mildew, with Kamps displaying three samples for attendees to observe of this type of disease commonly found on cucurbits, grapes and soybeans. Weather conditions have played a big part in the occurrence of this disease on hemp in Lafayette County, Kamps said.
He has also seen fusarium root rot and pythium on some hemp plants in the county, with Extension collecting information on identification and the effects each disease have on hemp plants within the county. Kamps has noticed that "rouge hemp," also known as "feral hemp" or "ditchweed," has had the same kind of insect pressure as seen in industrial hemp plants, although it appears it has less disease pressure this year.
"I'm hopeful we can find tools for our toolbox as it relates to hemp," he said.
He's also hopeful for a conventional, straightforward way of harvesting the crop, along with the development of best management practices and cost of production spreadsheets similar to ones used for other crops in Wisconsin.
For Kamps, much of it starts locally. He encouraged those in attendance to contact him or UW-Extension if they want to try something new or have observed something interesting going on with their crop.
"Without your involvement and partnership, we won't learn much about this locally," he said.
He was quick to state, however, that Lafayette County UW-Extension is in no way promoting the cultivation of industrial hemp — only providing resources and finding the best ways to do it.
"It's interesting and exciting and we're here to support that," Kamps said.
Dr. Shelby Ellison of UW-Madison's Horticulture Department and Dr. Leah Sandler of the Michael Fields Agriculture Institute also provided an update on what they've been seeing across the state when it comes to pest and disease pressure in this year's hemp crop. Insects like the Eurasian hemp borer and corn borer have been observed; however, the corn borer has been seen in lots of crops this year, Sandler said.
There are no labeled pesticides for hemp and no synthetic products should be used on the crop, she also advised. She has spoken to growers who have used soaps and oils with varying degrees of success, and encouraged growers who may have found something that worked — or didn't work — to let her know so that information can be shared with others.
Because the Midwest is more humid than states located out west, hemp plants in Wisconsin have had a higher risk of mildews, including downy and powdery mildews. Spacing and ventilation can help, along with other factors, depending on the size of the operation.
Harvesting will be fast approaching, typically in mid-September to mid-October in Wisconsin. This means licensed hemp growers will need to contact the Wisconsin Department of Agriculture, Trade and Consumer Protection to schedule a hemp sampling date. Melody Walker, DATCP Pest Survey and Control Section chief, was on hand to answer any questions growers may have had on the state's testing methods and procedures.
Ideally, a grower should contact DATCP and schedule the testing 30 days before harvest, Sandler said. Walker anticipates this year being more challenging than last year due to the sheer volume of samples that need to be collected and tested as interest in industrial hemp continues to grow in Wisconsin.
Growers should also plan accordingly for harvest, knowing that it will likely take a lot of hand labor to complete. Hemp needs to be dried quickly after harvest to minimize damage to CBD, with Sandler estimating about two to three days from harvest to drying in a space that is covered by a roof and out of direct sunlight.
DATCP will test the THC content as part of their testing, ensuring that it is under the legal limit of 0.3%. A processor will test the CBD percentage and pay the grower accordingly for their product, with Walker encouraging CBD growers to test their hemp earlier to ensure their THC levels aren't too high.
Ellison also warned that processors will be picky this year due to the large influx of growers, particularly those growing hemp for CBD. These processors will be looking for the presence of heavy metals and pesticides, among other indicators, paying top dollar for the best products.
Hemp-based sales in the United States reached $1.1 billion last year, but it is hard to predict the market for hemp in 2019, especially for CBD.
"Grow the best crop you can grow," Ellison said. "It's a very volatile market right now."
A resolution in opposition to the legalization of marijuana in the State of Wisconsin was on the agenda for the Lafayette County Board Aug. 20. It was brought forward by the Lafayette County Law Enforcement Committee, with Sheriff Reg Gill advising the board to consider the resolution after he spoke with sheriffs in Colorado and law enforcement in Florence County, near the Michigan border, where marijuana is legal.
Neighboring Illinois became the 11th state in the U.S. to legalize the sale and use of recreational marijuana this year. Sales will officially launch on Jan. 1, 2020.