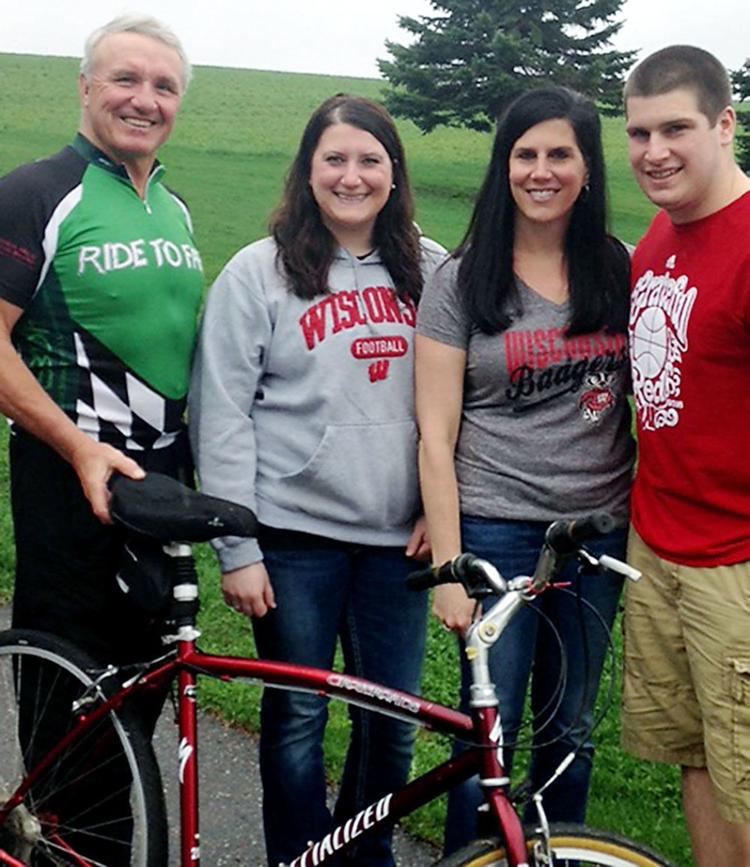 After two of his former students — Ram Seibel, and his son, Jeremy — were killed in a farm accident, retired Bloomer agriculture instructor Merle Richter wanted to honor the father and son and bring awareness to safe farming practices.
In 2017, Richter and Ann Seibel, Ram's wife and Jeremy's mother, organized a 35-mile bicycle ride, the Tour de Farm Safety, that made stops on Bloomer-area farms and focused on safety precautions taken on the farms.
After a year off, the Tour de Farm Safety returns Saturday, June 29, with stops at four area farms not visited during the first ride.
"They've got some neat things and stops planned again this year to raise money for farm safety and scholarships," said WAXX/WAYY Radio Farm Director Bob Bosold, who will be on hand to kick off the ride from Pines Ballroom in Bloomer.
On July 2, 2015, Ram and Jeremy Seibel were killed in a farm accident in a manure-confinement system on the family's farm. Ram called his brother and farming partner, Ron Seibel, to look after the cows while Ram went into the pit after a piece of equipment that had fallen off. While in the pit, Ram was overcome by the gas build-up. Jeremy tried to come to his father's rescue but was killed too.
About a year after the accident, Richter approached Ann Seibel about doing something to honor the memory of Ram and Jeremy.
After dedicating his ride at the 2016 Ride to Farm in southern Wisconsin to the two men, Ann and Merle came up with the idea of creating a bicycle ride around Bloomer that focuses on farm safety.
"Ann's just phenomenal," Richter said. "She's the real impetus for this thing. They're an amazing family."
Proceeds from the ride will go to the UW-Madison Farm and Industry Short Course's Ram and Jeremy Seibel Scholarship fund and to a Bloomer FFA scholarship. Jeremy was a graduate of the short course.
"There's got to be something good that comes out of this," Ann said before the first Tour de Farm Safety in 2017. "We've got to do something that can help save other people."
Riders will leave on the 35-mile route from Pines Ballroom, 9690 County Hwy SS, Bloomer, at 8:30 a.m., June 29, and make the 6-mile trip to Jon and Wendy Schmidt's Woodmohr Jerseys, where they will have a safety demonstration and farm tour from about 9:15 to 9:45 a.m.
The Schmidts' raise and show Jersey cattle and graze and milk about 40 cows. Chippewa County UW-Extension Agriculture Agent Jerry Clark will lead a demonstration about manure and enclosed-space safety while the riders recover with strawberries and ice cream on the farm.
"It wouldn't be our ride if we didn't have some type of dairy treat," Richter said.
From Woodmohr Jerseys, riders head out for about 7 miles to Cathy and Randy Feuling's CR Vineyards on a leg that includes a trip up Bunker Hill. The Feulings have about 50 acres of grape vines on their Chippewa County farm. The safety demonstration on the farm, which runs from 11 to 11:30 a.m., will focus on ergonomics, Richter said.
"That's probably the most strenuous leg of the ride," Richter said. "Bunker Hill is a nice, little hill in this neck of the woods. We'll have somebody on top of the hill and give a little pin if they make it all the way up, saying 'I conquered Bunker Hill.'
"We may have to have defibrillators there too."
From there, riders head 7 miles to Klinger Farm Market, where they'll stop from 12:15 to 12:45 p.m. Klinger has about 1,200 acres of crops to go along with the market and 18 greenhouses. Klingers' farm started as a dairy in 1903, and Richter said he remembered it as a mink ranch from when he started teaching in Bloomer about 40 years ago.
"It's a neat niche they fit into," Richter said. "We thought that would be a really unique stop."
The longest leg of the ride will take bicyclists 11 miles to Don and Liz Mayer's Mayer Lane Holsteins. The Mayers farm on about 6 acres and milk about 70 Holstein cows, Richter said.
"There are a lot of great genetics in the herd. It's a beautiful farm," Richter said. "We haven't got the traditional farm on the ride, but we've got a couple unique, little farms."
The stop at Mayer Lane Holsteins lasts from 2 to 2:30 and includes root beer floats and a visit from Wisconsin's 72nd Alice in Dairyland, Abigail Martin.
The ride wraps up about 4 miles later back at Pines Ballroom for a 4 p.m. charcoal chicken dinner.
Nearly 200 riders took part in the first Tour de Farm Safety, and Richter said he is hoping for a similar turnout this time around. As of early June, there were about 100 riders and another 100 non-riders just hoping to make the farm visits registered.
"This has been such a funny year," Richter said. "We had no spring, when people are usually out riding. A lot of people have said they haven't even gotten their bikes down yet."
Richter said anyone interested in learning more about the event should contact him at mkrichter@bloomer.net or 715-579-7288. Registration materials are available on the website, https://foreverinourfields.com, and at the Bloomer Area Aquatic and Recreation Center.
"It was such a great success two years ago," Richter said. "What we always overlook about a bike ride is how nice it is to chat with people while you're out on the road."