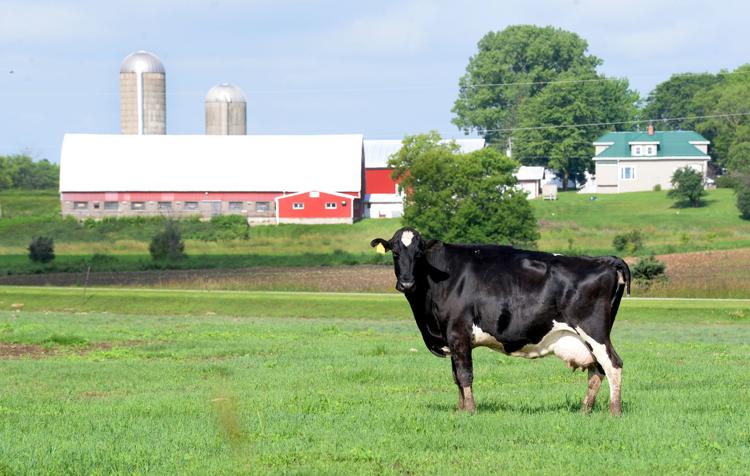 A solid plan for farm succession can help ensure the future of a farm for the next generation as well as the benefits that farm brings to surrounding communities.
In order to make the process of farm succession clearer, UW-Extension is offering several "Cultivating Your Farm's Future" workshops at seven locations around the state in the coming weeks.
Winter, especially as a new year and new decade are ushered in, is a time for self-reflection and to "think strategically about the future," said Trisha Wagner, Farm Management Outreach Program manager with UW-Extension.
The meetings being offered are therefore a chance to begin diving into a subject that's difficult to do all at once, said Kaitlyn Lance, UW-Extension La Crosse County agriculture educator.
Topics including tax implications around farm succession; retirement resources; U.S. Department of Agriculture Farm Service Agency loan programs; business plans; estate planning tools and strengths, weaknesses, opportunities, threats (SWOT) analysis will be covered at the workshops. Individual meetings with resource professionals are also on the schedule.
The workshops will be "looking at the broader picture of farm succession" and aim to address the questions "Where do you want to be?" and "Where is the farm now?" Wagner said.
Doing so helps prepare for the jump into action, aspects of which will also be addressed at the meetings.
But "first, make sure you're clear about what you want," Wagner said.
Opening up the conversation about farm succession can be tricky, Wagner said, and conflicting visions for the future of the farm can emerge. These workshops are therefore designed to help formulate and clearly articulate an individual's vision for the farm and provide tools to help resolve conflict and protect relationships.
"The very first conversation is really the hardest," said Joy Kirkpatrick, outreach specialist at the UW Center for Dairy Profitablity.
Having an outside facilitator can make starting the conversation easier, Kirkpatrick said.
Once the conversation is started, the facilitators can also help the owners and successors communicate more clearly.
Ensuring that the owner generation can convey what they see the future of their farm as to the successor generation and that the successor generation is in a spot where they can learn from the owner generation is necessary, Lance said.
Data from the 2017 Census of Agriculture shows the average age of an American producer to be 57.5 years old, 1.2 years older than recorded in 2012. As that age inches upward, ensuring plans for transitioning farms are in place becomes more of a priority.
Some farmers, particularly in challenging economic times, don't see a point in getting their kids involved anymore, Wagner said.
It's still valid, however, to trust that the next generation would bring in new ideas and potentially an entire new skill set, Wagner added.
Even if the farm has been through some hard times, farmers still have to think about what they want for the future of it, Lance said.
For farm families, farming is "more than just income," Lance said. "It's a livelihood."
Making sure that the next generations are able to continue Wisconsin's agricultural legacy is also important to ensuring vibrant rural communities and a healthy, nutritious food supply, Wagner said.
"Wisconsin is know for producing," Wagner said.
Lance added, "Agriculture is the backbone of Wisconsin."
Those putting off succession planning, anticipating it to be a problem for further down the road, are advised that, simply, unexpected things happen, Wagner said.
Day-to-day operating can make sense, Wagner said, but it can also make a farmer vulnerable.
There are a lot of things "we don't really have control of," Lance said.
According to Kirkpatrick, there are several "Ds" that can arise that a solid farm succession plan can help an owner/successor team work through: death, disability, disaster (e.g. fire, hail, crop failure), divorce, disagreement, debt, depression, dysfunction (a higher level of disagreement) and denial of any of the previously listed items.
Succession planning "can help you survive major impacts" from things like these, Wagner said.
With a written plan in place prior to a stressful event happening, Kirkpatrick said, decisions don't have to be made in that time of crisis and there will be something concrete to fall back on.
Beginning succession planning early can also ensure that the successor generation, which often can't buy the farm outright, has time to work with the owner generation, especially since the transition process can take 10-plus years, Lance said. She likened the process of being a successor to that of being an apprentice.
Holding the workshops is supposed to provide the opportunity to get started thinking about what's next for the farm and bring awareness about farm succession, Lance added.
The real work will continue beyond the workshops, Kirkpatrick said, as participants continue to work specifically on their individual plans.
Each farm will have different circumstances to work through and around, but the upcoming meetings can provide a general overview and starting point.
The first workshop will be held Jan. 21 in Walworth County. Five other workshops will round out the month of January, and one workshop is scheduled for the end of February.
Registration for a workshop is $20 per person and includes lunch, refreshments, speakers and workshop materials. Workshops are scheduled to run from 9:30 a.m. to 2:30 p.m.
For more information on workshop schedules and registration information visit farms.extension.wisc.edu/programs/cultivating or call the Walworth, Green, Marathon, Dunn, Ozaukee and Washington, La Crosse, or Brown county UW-Extension offices.
Follow-up meetings, based on participant feedback, will be offered in the host counties. Farms can also request individual meetings with UW-Extension educators and specialists or the Wisconsin Department of Agriculture, Trade and Consumer Protection's Farm Center staff.