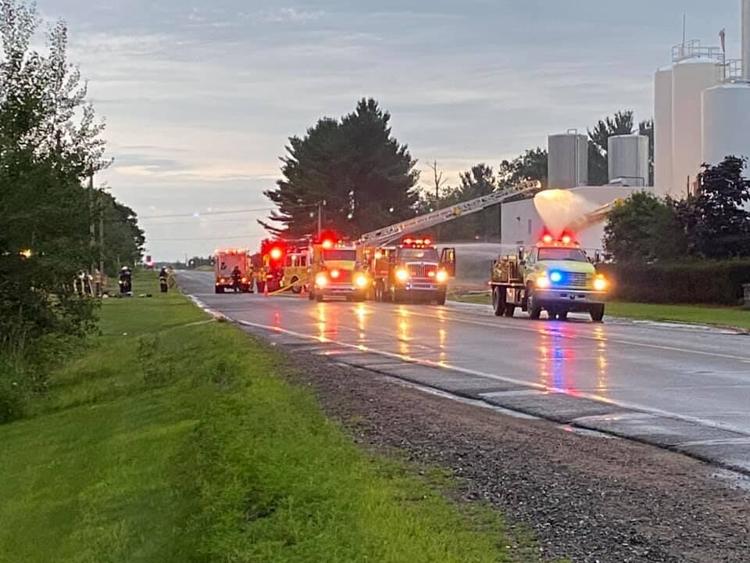 Authorities said they believe a fire that broke out the night of July 20 at Burnett Dairy Cooperative in Alpha was caused by a mechanical malfunction and began in the plant's boiler room.
Now that the fire is out, work is underway to assess the damage and clean up chemicals that spilled during the blaze. The fire remains under investigation.
The fire was reported at around 10:30 p.m. July 20 and burned into July 21. All employees were safely evacuated and there were no injuries.
Highway 70 was closed temporarily, but it has since been reopened to traffic.
There were 13 fire departments that responded to the fire across northwestern Wisconsin and northeastern Minnesota. Burnett County Sheriff Tracy Finch said firefighters were able to put out the blaze by early in the afternoon on July 21. But, they remained on site to take care of anhydrous ammonia that leaked during the blaze.
"I believe they will have to determine if there is any threat to any of the waterways around there due to the amount of anhydrous ammonia that was expelled, and, then, the dairy will start the cleanup," Finch said.
Ammonia is a toxic gas or liquid that can be fatal to those who are exposed in great quantities, according to the Centers for Disease Control and Prevention. It's commonly used in agriculture and refrigeration.
Jim Tolbert, Burnett County emergency management director, said it's unclear how much was released during the blaze. He said a leak likely occurred in lines that run to a tank that held 8,800 pounds — or 1,760 gallons — of anhydrous ammonia.
"When the ceiling fell in, I think one of the lines ruptured and that's when the leak started," Tolbert said.
Tolbert noted a valve to the tank was shut off during the response to prevent any further release. Company officials were draining the remainder of the tank Tuesday to determine how much may have spilled. He said the Wisconsin Department of Natural Resources is involved with the spill response and the environmental impact is expected to be minimal.
Burnett Dairy is one of the county's largest employers. Both Finch and Tolbert expected the fire to have a significant impact on the dairy's operations. Officials with Burnett Dairy couldn't be immediately reached for comment on Tuesday.
Don Korhonen, a member of the cooperative, operates a 50-cow milking herd in Brule with his son. He said it's unclear what impact the fire will have on producers. But, he said most of the milk in northern Wisconsin is going to Burnett Dairy.
"The only other option is if they found other plants further south or elsewhere," Korhonen said.
If the dairy can't accept milk, Korhonen questioned whether other plants would be able to accept milk since many are already near capacity.