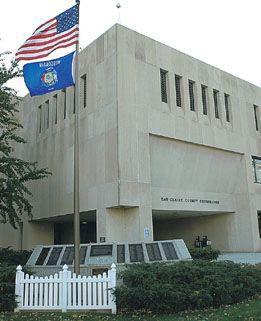 Eau Claire County officials, in the near future, are going to be reaching out to state lawmakers, county supervisors and taxpayers to convey business can't go on as usual.
"We all know how difficult it was to put the 2019 county budget together," Eau Claire County Administrator Kathryn Schauf told members of the committees on Administration and Finance and Budget during a joint meeting Thursday.
The county's 2019 budget includes $113.59 million in overall spending; a $34.02 million tax levy — the amount collected from taxpayers; and a tax rate of $4.06 per $1,000 of equalized valuation. In comparison, the county's 2018 budget included $109.37 million in spending; a $32.24 million tax levy; and $4.09 tax rate.
For more than a decade, counties and other local municipal units of government have been subject to a levy limit program, which restricts the year-to-year increases in county and municipal property tax levies.
Wisconsin statutes limit county operating property tax levy increases to zero percent or the increase in countywide net new construction value, whichever is greater. Equalized value due to net new construction increased at 2.89 percent in 2018, so the 2019 county budget recommendations were based on a 2.89 percent increase in the operating tax levy.
"We have a vision of wanting to have a good, financial, sustainable base from which we can grow along with our community … ," Schauf said. "We … know that in order to really be effective and survive we cannot simply do that through … cutting and shrinking services. But at this point, in many areas that is our only option."
During the meeting Thursday, county finance director Norb Kirk said Eau Claire County has exceeded two financial sustainability metrics: debt service as a percentage of the entire levy and unassigned fund balance as a percentage of the general fund expenditures.
Debt service is the cash that is required to cover the repayment of the interest and principal on a debt, and unassigned fund balance is essentially a "rainy-day" fund to ensure the county can make payroll and other expenses.
County officials don't want the debt service levy to be more than 30 percent of the total levy, and the county will exceed that in 2019, Kirk said.
The general unassigned fund balance should be at least 30 percent of general fund expenditures, and it's not, he told committee members.
"Budgeting in a way that makes sense is becoming more and more difficult for us as a county government because of the obstacles you see," said Schauf, noting county officials have taken steps to reduce expenses through collaborations and innovative programs. "If we get no traction from the state of Wisconsin, we are going to have to start making decisions about … what it is you as policymakers would like to see as the future of this county."
In an effort to raise revenues, the Eau Claire County Board in July approved a $30-per-vehicle registration fee for county roadwork. The fee took effect Jan. 1, and it is in addition to the $75-per-vehicle registration fee the state charges annually to register a vehicle in Wisconsin.
The county will have an estimated $2.39 million in additional revenue this year to pay for highway-related capital projects.
Eau Claire County has borrowed increasing amounts of money in recent years to repair and maintain its roads. Such borrowing is necessitated by the state-imposed limits that mean the county can't increase its local tax collections at a high enough level to pay for its current services and road repairs.
Borrowing is exempt from revenue limits, but continued borrowing at current level isn't feasible into the future, county officials have said, because the interest on that borrowing becomes too costly.
Supervisor Colleen Bates suggested the state consider a cost of living increase for counties to help cover operational costs.
"It would help us tremendously," said Bates, vice chairwoman of the Committee on Administration.
Going forward, Supervisor Nick Smiar, chairman of the Committee on Administration and the County Board, suggested a three-prong approach — educating state lawmakers, fellow board members and taxpayers.