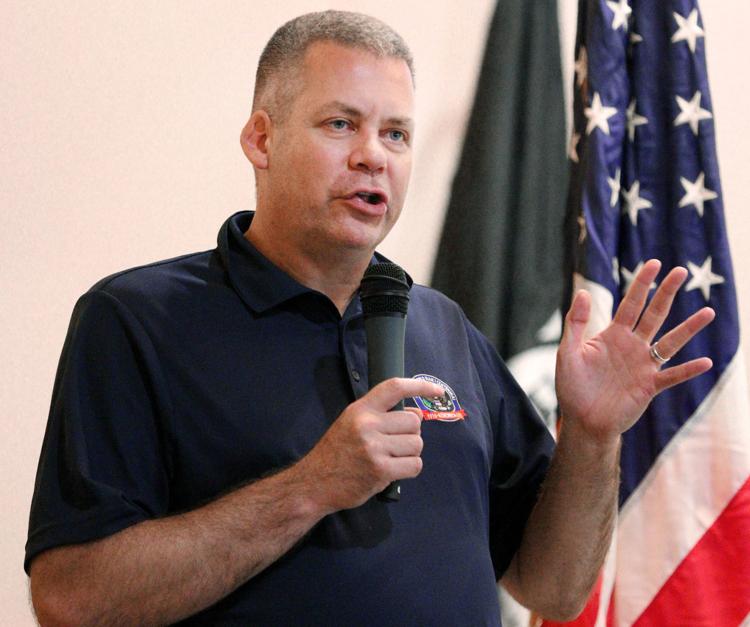 Veterans, family members, and area community members gathered at the VFW Post 305 on Starr Avenue on Wednesday to honor the first battalion, 128th infantry regiment of the Wisconsin National Guard, which will leave next week for Fort Hood, Texas.
The soldiers will then head to Afghanistan for a tour. All together, the unit is expected to be gone for about a year.
Tom Yetter, who organized the event, said it is important to honor the soldiers.
"We are putting these people in harm's way," Yetter said. "They are our neighbors, friends, co-workers. It is important to me to display that support for them."
The 128th infantry is based in Eau Claire, but it has members ranging from Abbotsford to River Falls to Onalaska, Yetter said.
An official farewell ceremony will be held Sunday in Menomonie with several state-level politicians expected to attend, and the soldiers will ship out Monday and Wednesday, Yetter said. With their deployment coming soon, most of the soldiers were packing on Wednesday and unable to attend the event, Yetter said.
Those who did attend celebrated the veterans and enjoyed camaraderie and food.
Bill Brinkman, 86, of Eau Claire, served in the U.S. Navy from 1952 to 1955, and was briefly stationed in Korea.
"I'm here to provide moral support," Brinkman said.
The centerpiece of the event was the area debut of the military documentary film, "Dawn of the Red Arrow," which traces the history of the unit.
Maj. Brian Faltinson, a public affairs officer and historian with the Wisconsin National Guard, produced the film and answered questions about it after the showing. He worked on the film for 18 months, completing it in April. The film debuted at an event in Milwaukee in May, Faltinson said.
"The Red Arrow is a powerful symbol across Wisconsin," Faltinson said. It was great for them to see where their unit came from."
Faltinson was proud to be part of the tribute to the troops event.
"Post 305 is very connected to the first battalion, 128th infantry, and this was a perfect venue to host something like this," Faltinson said.
Nick Messicci, 26, of Chetek, works in Eau Claire near the battalion's armory, and he said he wanted to show his support for the troops. He enjoyed the movie.
"We don't hear much about World War I," Messicci said. "Getting a chance to see them, and their history, was pretty neat. They did a good job."