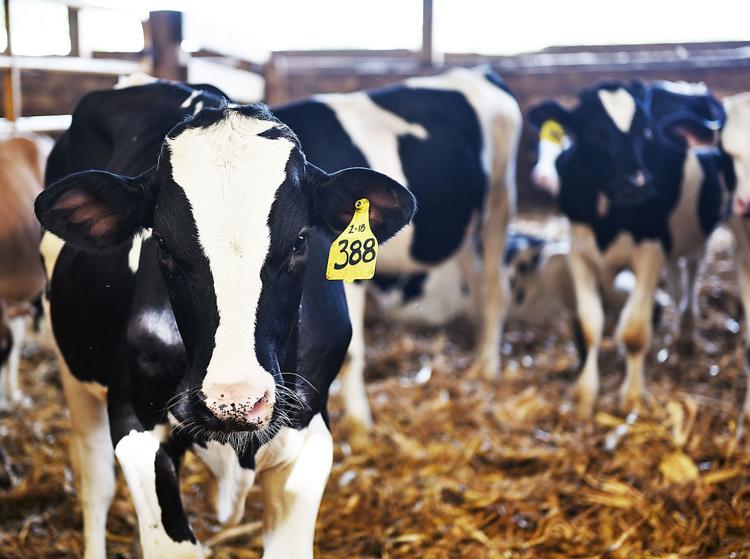 A year ago, the Dairy Together Roadshow put a focus on the Canadian dairy supply management system as dairy farmers struggling with low milk prices and an oversupply of milk in the U.S. searched for a solution to the dairy industry's problems.
A year later, and after the loss of another 691 dairy farms in Wisconsin alone, dairy farmers are still searching for a solution many fear won't come soon enough.
Darin Von Ruden, Wisconsin Farmers Union president and an organic dairy farmer in Westby, said the hundreds of farmers who have attended Dairy Together events in 2018 and 2019 was evidence farmers are working for change in the industry.
"This is about agricultural organizations working together to find solutions to the dairy crisis," Von Ruden said. "If we do nothing, the handwriting is on the wall for many of our nation's dairy farmers."
Speakers at the April 2 Dairy Together Roadshow, which drew about 100 attendees to Eau Claire, discussed three proposals for dairy reform. A version of the Dairy Price Stabilization Plan and a version of the Structured Dairy Pricing Program were offered for potential long-term fixes, and the Family Dairy Farm Relief Act was considered a more immediate, short-term fix.
"There's more than one approach for reforming our dairy economy, each with its own pros and cons," Von Ruden said.
"The plans differ in some of the details, but ... they give us control over production, they are strong enough to make a difference, they are national solutions and not regional or voluntary, they move the industry away from consolidation and help level the playing field so independent farmers can have a fighting chance."
Look back at 2014
Wisconsin Farmers Union asked dairy economists Mark Stephenson from the University of Wisconsin and Chuck Nicholson from Cornell to conduct an analysis of dairy programs intended to reduce volatility in milk prices and farm income that were considered in the lead-up to the 2014 farm bill. WFU was hoping to find out what the dairy economy would have looked like had the Dairy Price Stabilization Plan been implemented with the 2014 farm bill.
"We need to give every farmer an opportunity to stay in business," said Bobbi Wilson, WFU government relations associate. "In the lead-up to the 2014 farm bill, there were a few proposals going on. What ended up winning the day was what became the (Dairy Margin Protection Program).
"We had some good proposals on the table not that long ago. We wanted to take a look at what those programs would look like under current market conditions."
Through the Dairy Price Stabilization Plan, farmers who expand beyond an allowable rate of milk-production growth set by the U.S. Department of Agriculture and based on market demand must pay a market access fee. That fee would then be distributed among all the farmers who chose not to expand beyond the allowable growth rate, according to Wilson.
"Essentially, farmers who chose to expand beyond what the market can absorb are paying everybody else for that additional share of the market so nobody is hurt by that expansion," Wilson said.
Results of the analysis showed that had the Dairy Price Stabilization Plan been implemented, average milk prices would have increased, net farm operating income would have increased, market volatility would have been reduced, government expenditures would have been reduced and the rate of farm losses would have been reduced, Wilson said.
"The bottom line on what we found was generally pretty positive in terms of thinking of what these programs could do," Nicholson said. "We saw reduced variation in prices and also some price enhancement, increased net farm operating incomes, reduction in the rate of farm exits across farms of all sizes, and a reduction in government expenditures on dairy programs."
National Farmers Organization director of dairy sales Dick Bylsma offered the Structured Dairy Pricing Program as a potential long-term fix. The Structured Dairy Pricing Program would establish a national Federal Milk Marketing Order with a $4 per hundredweight premium on the first million pounds of monthly milk production for all farms. Tier levels would be determined by the national average of herd sizes and applied to the Federal Order.
Bylsma said milk production has outpaced demand, all while the number of farms in the U.S. has declined by 94 percent since the 1970s, a trend he said is expected to continue, with the USDA projecting fewer than 18,000 dairy farms remaining in the U.S. in 2036.
"In addition to my economic concerns, in addition to NFO's concern about economics on a dairy farm, there's one other very important point that we as Americans better stop to think about," Bylsma said, "the biosecurity issue of having all of our dairy cows congregated on just a few farms. Congregating all of our cows onto just a few farms represents a real potential food-security problem."
Bylsma said some of the advantages of the Structured Dairy Pricing Program include that it preserves farmer freedom by not limiting the number of cows that can be on a farm, doesn't increase cost for consumers or taxpayers and reduces the cost of production difference between small and large farms.
"Based on current milk prices in America, a smaller family farm is paying for the privilege to milk cows," Bylsma said. "The trend of smaller farms going out of business and mega-farms increasing will not change unless we change something."
A quick fix
From 2000-2017, the U.S. lost 42 percent of farms with 100-199 dairy cows, 60 percent with 50-99 cows and 75 percent with fewer than 50 cows in their milking herds. Meanwhile, since 2012, the number of farms with 2,000 cows or more has grown by nearly 20 percent, according to Dr. Pete Vitaliano, National Milk Producer Federation economist.
"We have more than a price problem, but also we have a structure problem," said Richard Levins, professor emeritus of applied economics at the University of Minnesota. "The mix of farmers out there is changing so dramatically now that pretty soon there won't be room for (small farms) because (large farms) will have all the space."
In February, the NFO proposed the Family Dairy Farm Relief Act, which they called "a short-term bridge program as the industry moves to a more market-centered solution not requiring federal funds." The goal of the Family Dairy Farm Relief Act is to bridge the $4.21 per hundredweight difference in operating costs between the smallest of family-size farms and larger operations.
For farms with a 50-99 head milking herd, the cost of production disparity is $3.18 per hundredweight, and the disparity decreases as the size of the herd increases, according to the NFO. Under the Family Dairy Farm Relief Act, smaller farms would receive higher payments per hundredweight, but those operations have less milk to compensate for price-wise.
The program is based on a similar program started by the state of Maine in 2004 that a 2010 study by the Maine Department of Agriculture, Conservation and Forestry and a 2018 academic study found effective.
The program would be voluntary and would draw from USDA funds, according to the NFO. "America's dairy farmers strongly prefer market solutions, but in times of crisis must also recognize the importance of short-term federal intervention," the group said.
"This is a short-term program and not the first choice anyone would make," Levins said.
The Dairy Together Roadshow is set for stops April 16 in Greenwald, Minn.; April 29 in Modesto, Calif.; and May 2 in Clovis, N.M.
For more information about the proposals, visit dairytogether.com.