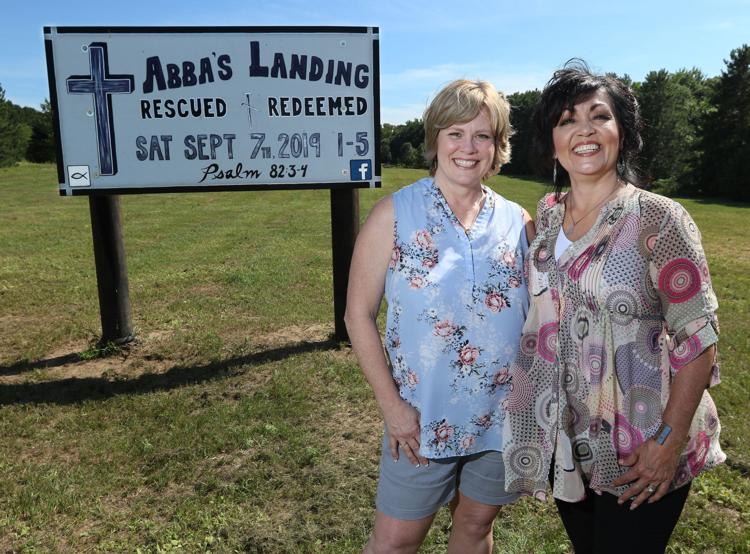 Recognizing that human trafficking is an insidious and growing problem in west-central Wisconsin, Elaine Geissler and Sali Bluse feel called to do something to help the victims.
The two women believe they have an idea for an effective way to fight back against an underground industry that is estimated to victimize hundreds of thousands of women and children across the country.
Geissler, of Chippewa Falls, and Bluse, of Eau Claire, plan to build a 20- to 30-bed shelter for trafficked women and children on a 5-acre tract of land Geissler owns just west of Eau Claire in the town of Union.
The facility, which they hope to open next year, would incorporate medical care, nutritional and hygienic needs, and Christian-based counseling and therapy.
"These people need a place to call home as they heal physically, psychologically and spiritually," Geissler and Bluse state on the website of the nonprofit group Rescued & Redeemed that they co-founded to address the issue and operate the shelter.
Human trafficking involves the use of force, fraud or coercion to obtain some type of labor or commercial sex act, according to the U.S. Department of Homeland Security.
Geissler said the idea arose from the realization that sex trafficking victims in the region have few resources available to guide them toward a more positive future.
The shelter, which the women plan to call Abba's Landing (signifying safe and protected through Christ), would offer transitional housing and services.
The plan is for the facility to have a 90-day period in which victims "get to choose if they want to get out of the life and make a better way for themselves. We can't force them. They're going to have to make their own choices," Bluse said.
For those who choose to stay, shelter staff would provide intensive counseling, along with programming related to life skills, employment and faith, that could last a year. The nearest comparable facility, Bluse said, is Terebinth Refuge in St. Cloud, Minn.
"Our vision is to build a transitional home as a temporary shelter for these survivors who have been victimized by this horrific sin, to help heal and restore their lives, and to show the amazing grace and love of our Lord Jesus Christ," she said.
Both Geissler and Bluse emphasized that they intend for a key part of the mission of Rescued & Redeemed to be raising awareness about human trafficking and steps people can take if they suspect a woman or girl is being trafficked.
"We have to bring people's attention to this," Bluse said. "It's happening in our own town right now, and we just want to take the blinders off people. It's just growing so fast."
The women hope to spur action in addition to just caring.
"It's time for people to get off their church pews and get out there and be the Christians they claim to be," Geissler said. "We're the ones who are supposed to help our fellow man."
State Rep. Jodi Emerson, D-Eau Claire, who served as director of public policy and community relations for five years for the local anti-human trafficking group Fierce Freedom before being elected to the Assembly last year, said many well-intentioned people have tried to launch such shelters without realizing all of the obstacles.
Challenges include finding highly skilled therapists, dealing with addiction and trauma issues, and trying to help people who have been coerced and may feel like they have no other option than to continue in the sex trafficking industry.
"Most of these people are not looking to be rescued by a white knight," Emerson said.
Security is another potential stumbling block, as a shelter for victims is likely to attract regular visits from both traffickers and law enforcement officers — a prospect likely to draw resistance from neighbors, Emerson said.
Bluse and Geissler said they understand the path to making Abba's Landing a reality won't be easy, but they are determined to follow what they consider their calling from God.
They hope to take a significant step on Saturday, Sept. 7, when they plan to hold a free sex trafficking and child exploitation awareness and fundraising event at the site.
Depending on the pace of fundraising, Bluse said they may have to launch a temporary facility before they raise enough to build the permanent shelter they envision.
"But we will not stop," Bluse said, "until we have a home of some sort."