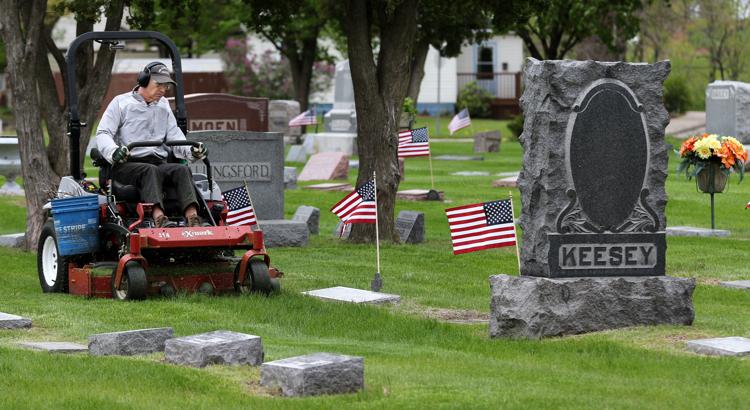 Here are some facts, schedules and other information you might want to know for the 2019 Memorial Day holiday:
Weather forecast
Expect pleasant weather for the holiday weekend. Mostly sunny skies are on tap for both Saturday and Sunday with highs forecast to be 70 and 71, respectively. Memorial Day will feature mostly cloudy skies and a high of 69.
Parades/ceremonies
• The Memorial Day parade on Monday in Eau Claire will follow its traditional route, starting at Wilson Park on Barstow Street, continuing on Lake Street and ending on First Avenue at Owen Park at the UW-Eau Claire parking lot. The parade begins at 9:30 a.m.
Bands from North and Memorial high schools, and Northstar, DeLong and South middle schools, will perform in the parade.
Army veteran Dan Cavanaugh will be the featured speaker at a Memorial Day program after the parade at Boyd Band Shell in Owen Park. The names of deceased veterans will be read and the North High School band will provide music.
The community and all veterans organizations are invited to participate in a Memorial Day worship service at 10 a.m. Sunday at Chapel Heights United Methodist Church, 300 E. Hamilton Ave.
Memorial and decoration ceremonies will be Saturday at 10:30 and 11 a.m., respectively, at Lakeview and Forest Hill cemeteries.
The events are sponsored by the Eau Claire Patriotic Council.
• The Menomonie Patriotic Council will hold a Memorial Day ceremony at 9:30 a.m. Monday at Evergreen Cemetery near Lake Menomin in Menomonie. The guest speaker will be Lt. John Roosen, a Marine Corps and Navy veteran. Because of the length of the program, spectators are encouraged to bring lawn chairs. The road to the cemetery closes at 9:30 a.m. and stays closed through the ceremony. In case of heavy rain, services will be moved to the Veterans Center of Menomonie, E4710 Highway BB, which is two miles north of Menomonie on Highway 25.
Other Dunn County Memorial Day programs on Monday will be at 7:45 a.m. at Hay River Cemetery, 8:30 a.m. at Zion Cemetery, 9:15 a.m. at New Haven Cemetery, 9:45 a.m. at Connorsville Lutheran Cemetery, 10:15 a.m. at Chimney Rock, 11 a.m. at Hay River Town Hall, 11:30 a.m. at Wheeler Cemetery, 1 p.m. at Lucas Cemetery and 3 p.m. at Potters Field in Menomonie.
• The Chippewa Falls Memorial Day parade will start at 10:15 a.m. Monday at North Bridge and Willow streets and end at the Irvine Park Band Stand. Veterans, Boy Scouts and Girl Scouts are welcome to march in the parade.
A program will be held at the Band Stand in Irvine Park at 11 a.m. The keynote speaker will be Max Bergen, an Army Air Corps World War II veteran, POW and Purple Heart recipient. Other speakers include John Dienger, Jakeb Smiskey and Antolin Espinoza.
In other Chippewa County events, memorial programs will be at 11 a.m. today at the Chippewa Falls Senior Center, at 2:30 p.m. Friday at the Wisconsin Veterans Home at Chippewa Falls, 2175 E. Park Ave., at 11:45 a.m. Sunday at Bateman Cemetery in the town of Lafayette, and at 9 a.m. Monday at Prairie View Cemetery in Lake Hallie.
• A Memorial Day ceremony will be at 3 p.m. Monday at The Highground, a veterans memorial park about four miles west of Neillsville on U.S. 10. Guest speakers will be Jeff Bignell, the Gold Star Father of Scott Nagorski, and Jon Weiler, executive director of The Highground. At 11:30 a.m. at The Highground the names of Wisconsin residents who were killed or missing in action in Vietnam, Korea, Iraq and Afghanistan will be read. At 2 p.m., the Memorial Day Honor Ride Motorcycle Rally will enter The Highground. Motorcycle routes are coming in from various areas of the state.
• A Memorial Day ceremony will be at 1 p.m. Saturday at Northern Wisconsin Veterans Memorial Cemetery just off U.S. 53, three miles south of Spooner.
Travel
Several construction projects in west-central Wisconsin could inconvenience travelers during the Memorial Day weekend:
• Expect reduced lane widths for the replacement of the Red Cedar River Bridge on South Main Street in Rice Lake.
• Highway 25 north of Barron is closed for bridge and culvert work. The posted detour utilizes U.S. 8, U.S. 53 and Highway 48.
• Traffic is reduced to one lane for the replacement of the Elk Creek Bridge on Highway 121 between Gilmanton and Independence.
• Lane closures can be expected for improvements to the Red Cedar River Bridge on U.S. 12 in Menomonie.
• Lane closures are in effect for various areas of construction on Interstate 94 between Menomonie and Hudson.
• Motorists can expect minor delays and flagging operations for 26 miles of construction on Highway 54 from Black River Falls to City Point.
• Expect some lane closures for bridge work on U.S. 10 between Prescott and Hastings, Minn.
• Expect lane closures on I-94 from Eau Claire to Osseo for a comprehensive road improvement project.
For Wisconsin road construction conditions, call 511 or check the state Department of Transportation's website at dot.wisconsin.gov.
Motorists won't see much difference in gas prices compared to Memorial Day 2018. The American Automobile Association of Wisconsin said the average price of a gallon of self-serve unleaded gas in the state is $2.83, which is the same as a month ago and 5 cents less than last Memorial Day.
AAA estimates nearly 43 million Americans will travel for the holiday weekend, which will be 3.6% more travelers than last year. That will create the second highest Memorial Day travel volume since 2000, AAA said.
Government offices
Government offices in Chippewa Falls, Eau Claire, Altoona and Menomonie are closed Memorial Day.
Also closed Monday are: Chippewa Falls Public Library, 105 W. Central St.; Menomonie Public Library, 600 Wolske Bay Road; and L.E. Phillips Memorial Public Library, 400 Eau Claire St.
Garbage pickup
Garbage pickup in Altoona, Chippewa Falls and Eau Claire will be pushed back one day next week.
Financial Institutions
Financial institutions with personal service will be closed Memorial Day.
Museums
The Chippewa Valley Museum in Carson Park will be open from 10 a.m. to 5 p.m. Memorial Day.
The Paul Bunyan Logging Camp Museum in Carson Park is open from 10 a.m. to 4:30 p.m. Memorial Day.
Train rides
The Chippewa Valley Railroad Association begins its miniature train rides in Carson Park on Memorial Day. The rides are available from noon to 5 p.m. Admission is $3 for adults and $2 for children.
Sports
WEAU-TV (Channel 13) will carry the Indianapolis 500 beginning at 11 a.m. Sunday. WEUX-TV (Channel 48) will air the NASCAR Coca-Cola 600 race at 5 p.m. Sunday.
The Eau Claire Cavaliers amateur baseball team will play the Eau Claire Bears at 5 p.m. Monday at Carson Park in the 2nd Annual Billy Noss Memorial Day Game.