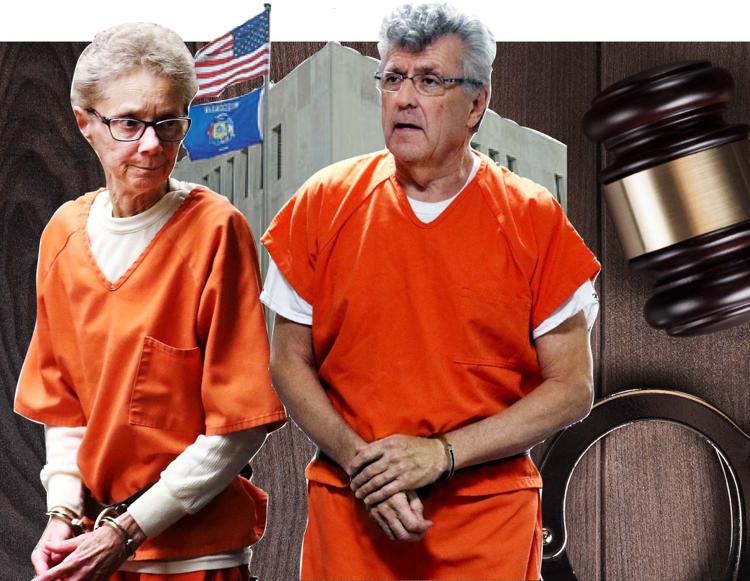 Convicted of stealing from taxpayers, two former longtime Eau Claire County employees are running out of time to pay more than $680,000 in restitution to avoid serving an additional five years each in prison.
Larry Lokken, the county's elected treasurer for 38 years, and Kay Onarheim, who worked in the treasurer's office for 34 years, have 16 months to pay $681,847 in full — $625,758 stolen from taxpayers between 2011 and 2013 plus additional charges of $56,809 for a forensic audit, insurance deductible and miscellaneous costs.
Lokken and Onarheim were charged criminally for the thefts occurring during that two-year period. However, further investigation by the Eau Claire Police Department indicated an additional $762,579 of funds were stolen between 2001 and 2010, according to county officials.
To date, Lokken and Onarheim have paid almost $70,000 in court-ordered restitution, according to the state Department of Corrections.
Of that, $37,357.53 has been paid to Eau Claire County, with Onarheim paying $20,660.18 and Lokken, the remaining $16,697.35.
An additional $32,494.62 has been paid to the Massachusetts Bay Insurance Co., with Onarheim paying $31,745.72 and Lokken, $748.90.
In late 2016, Eau Claire County agreed to a $1 million settlement with its insurance company. Beginning Jan. 1, 2017, any restitution paid by Lokken and Onarheim was to go to the insurance company.
The fact that Onarheim, 67, has paid three-fourths of the $69,852.18 in restitution paid so far doesn't surprise either Colleen Bates or Stella Pagonis, who both serve on the Eau Claire County Board.
"This is an individual who couldn't see his own wrongdoing, who somehow felt he didn't have to be accountable for his actions," said Bates, the board's first vice chair, of Lokken, 71.
Pagonis, who serves as chair of the board's Finance and Budget Committee, agreed.
"Larry just didn't seem to feel any remorse to begin with," Pagonis said. "I believe Kay truly regretted her actions. I give her credit for the fact that she has made an effort (to make restitution)."
Eau Claire attorney Harry Hertel, who represented Onarheim, is hoping Eau Claire County Judge Jon Theisen gives her some credit too.
"She made a commitment that she was going to pay restitution," said Hertel, noting his client agreed proceeds from selling her home would go to restitution. She also signed over half of her monthly retirement benefits. "She didn't have to do that, but she was remorseful and wanted to make amends."
In January 2016 Theisen sentenced Lokken to 9½ years in prison and 11 years of extended supervision for five felony counts of theft and three felony counts of misconduct in office for his role in the theft.
Less than two months later, Theisen sentenced Onarheim to eight years in prison followed by nine years of extended supervision.
The judge also ordered them to pay restitution in full by July 2020. Payments could be made in any amount by both parties.
Lokken is appealing. In court documents, his attorney Randall Paulson of Milwaukee argues Theisen's incentive — staying an additional five years in prison — is unlawful and that his client should be resentenced on all counts by a different judge.
Even though almost four years have passed since Lokken and Onarheim's crimes were revealed, Pagonis still feels like she is constantly looking over her shoulder to make sure the county isn't put in a similar position again.
"The whole thing is so disturbing," she said.