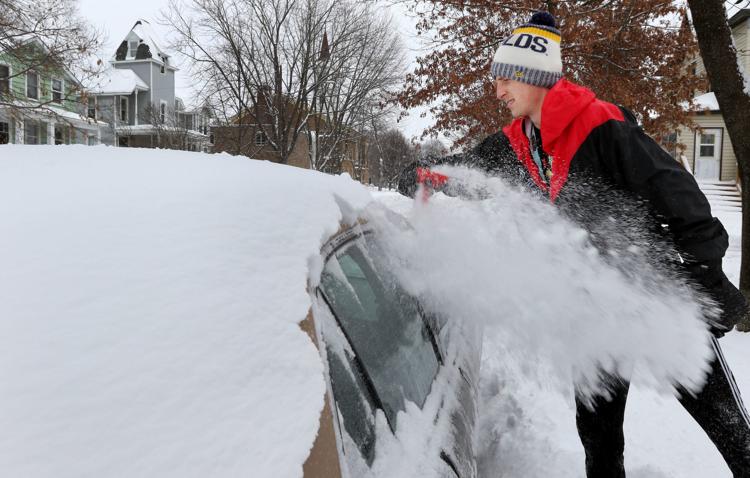 Of the last 44 years that Bill Kryshak of Menomonie has been cross-country skiing, this year is the longest he recalls waiting for enough snow to blanket the region for a trip out to the trails.
In fact, Kryshak, who as president of Friends of the Red Cedar Trail and Hoffman Hills helps groom the trails every year, has not gotten out once this year to either ski or groom.
But after snow pelted the Chippewa Valley Sunday into Monday, Kryshak and many other Chippewa Valley winter sport enthusiasts are thrilled to — finally — see a light at the end of that tunnel.
"It's been a tough winter," Kryshak said, chuckling. "As soon as I get done at work today, we'll be heading out to the trails and packing down the snow. We'll see what we have — at the least, it's got to be better than before."
As of Monday afternoon, National Weather Service meteorologist Tyler Hasenstein said the Eau Claire area received about 7½ inches of snow, noting he didn't expect more snow until at least Saturday due to the record cold weather blowing into the region for the next few days.
Though Kryshak doesn't expect Red Cedar Trail will be completely groomed for skiing until the end of the week due to the incoming dangerous cold, Josh Pederson, director of the Eau Claire County Parks and Forest department, said workers were out grooming county trails at Tower Ridge Recreation Area, as well as Coon Fork and Lowes Creek county parks.
"We're hoping traffic isn't super heavy and things are able to firm up ... The forecast this week is going to allow us to hopefully get a decent base built up on these trails," Pederson said. "I know that they're itching to get out there."
And that they are.
After a season that's been dismal at best so far, Jerry Poling of Eau Claire said he's anxiously anticipating taking full advantage of the snow once the region warms up a bit.
For the past two decades, Poling has kept a log of when and where he skis as he prepares for the American Birkebeiner marathon ski race, scheduled this year for the weekend of Feb. 21-24. This winter, he's only gotten out 11 times.
In most years, that number would be about triple that figure by the time February is rolling around, Poling said, making this year especially difficult.
To top it off, only three or four of those occasions were on trails or lakes in the region. Otherwise, Poling has driven to trails up north, including the Birkie Trail between Cable and Hayward, or parks and recreation areas in the Twin Cities that make artificial snow.
But even in those areas, Poling described conditions as "good, but not great."
"It's been a challenging year for sure," Poling said. "Most years I'm skiing about four times a week. But I do other things — I run and do other types of exercises to try to keep those muscle groups in shape. You just try to make it work."
Dave Flanagan, co-owner of Spring Street Sports, also was excited by Monday's snow, as business has been slow so far this season.
"Our business is tied to weather — when it snows in the winter, business is good. When it's sunny in the summer, our business is also good," Flanagan said. "It's hard for people to get excited for winter activities when there isn't any snow, so we're excited to get people outside and enjoying winter now."
But that same snow — and the plummeting temperatures — also caused dangerous road conditions throughout western Wisconsin.
As of about 2:45 p.m. Monday, the Eau Claire Police Department had responded to 9 crashes within city limits. But between 3 and 4 p.m. Monday, the department had already responded to four more.
"The roads are definitely starting to get more icy as the temperatures drop," said Bridget Coit, public information officer with the department.
The Eau Claire Wisconsin State Patrol post reported 20 run offs and 17 crashes from Eau Claire to the Minnesota border since 6 a.m. Monday.
Steven Thompson, Eau Claire city street manager, said his team was busy plowing all day, and anticipated initial city plowing efforts would be complete by 11 p.m.
But that's not to say the roads will be completely back to normal in the next few days. Thompson said plowing efforts will continue into Tuesday and alternate side parking will be in effect until 5 p.m. Wednesday.
"We've got a lot of it cleaned up," Thompson said. "But you've got to remember — it's going to take some time on our main streets to get them back to bare pavement with how cold it's going to be. Be careful out there."