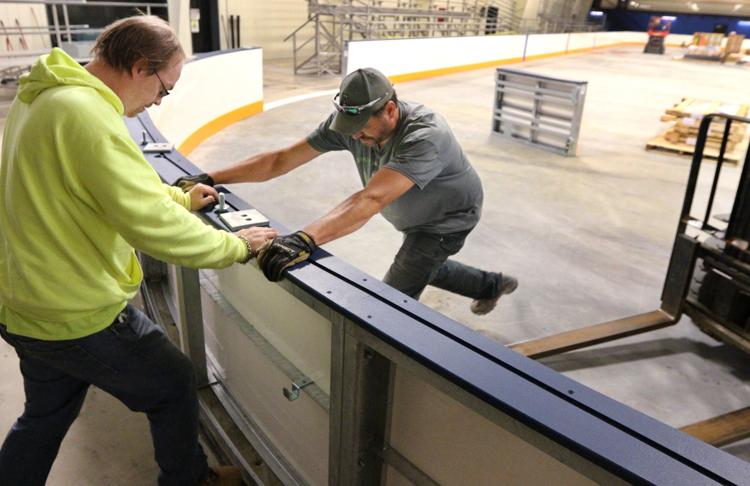 With its bigger and younger brothers getting attention in recent years, the midsized venue at Hobbs Ice Center had suffered a case of middle-child syndrome.
This summer was the Akervik Rink's time to catch up, receiving a new floor and several other upgrades so it can match the quality of the other two rinks at Eau Claire's venue for indoor hockey and ice skating.
"In a way, this project is getting this rink up to the level of the rest of the building," said Patrick Newkirk, the facility's manager and program supervisor.
The $1.75 million project is wrapping up in time for the rink to host a dry-floor event on Friday and then make ice in early October for hockey and skating.
The majority of the cost was for replacing the original floor from the mid-1970s that was outdated and showed damage at one end, which was attributed to runoff and underground frost (both issues also addressed by the project).
After tearing out the rink's old cement floor, workers spent months in the intricate and precise process of building a new one. To prevent frost from developing beneath the rink, a heating system was buried and a layer of insulation was laid on the ground. Then an intricate gridwork consisting of almost 11½ miles of cooling pipes was assembled.
Engineers used laser measuring equipment to ensure all pieces were in precisely the right position before the cooling grid would be carefully enclosed in a five-inch deep slab of concrete poured in a single day.
A time-lapse video on the Hobbs Ice Arena's Facebook page condenses about 13 hours of labor into a 20-minute clip — showing workers zip around with machines as they pour cement between and on top of the network of pipes.
Now hardened and smooth, the perfectly level surface was surrounded with new dasher boards last week, one of the final steps before it is ready for its public debut.
The whole project has taken about 5½ months to complete.
"Timeline was a concern with this project," Newkirk said.
Groups book rinks well in advance, setting its schedule usually six to eight months in the future.
On Friday evening, fundraiser Hops for Hockey will be the first event to use the new floor, followed by a fall consignment sale that has also used Hobbs twice a year as its location.
After getting a paint job on Oct. 1, the rink will be cooled down and workers will spend several days building up and perfecting a 1¼-inch-thick slab of ice.
The first players scheduled to skate on the ice are a preseason camp for Eau Claire Youth Hockey.
Around the ice
In a tour of the rink last week, Newkirk pointed out the other new features built with hockey players, ice skaters and spectators in mind.
Previously the Akervik Rink had three locker rooms, but they were essentially cinderblock cubicles because they had no ceilings, which exposed players to chilly air while they were changing into their gear.
Now there are four fully enclosed locker rooms — a number that makes back-to-back games possible at the rink because two teams can be getting ready while two teams on the ice have their equipment in the other pair of rooms.
Built atop the new locker rooms is a mezzanine where spectators can stand, giving them a view of the entire rink.
"I'm sure this will be a very popular place for people to watch their kids play," Newkirk said.
The sound system was updated too, connecting the Akervik Rink's speakers to the rest of the building so announcements for open skating, severe weather, missing children and other messages can be broadcast throughout all of Hobbs.
A fresh coat of paint also brightens up the rink's interior, replacing a yellowish hue that had been on the walls.
In addition to replacing an old ice floor at the end of its life, Newkirk said the project improves the rink for its users and could attract more teams to use Hobbs in the summertime.
Chris Tok, Eau Claire Memorial High boys hockey coach, said the mezzanine should provide a much better view to watch games than the Akervik Rink's bleachers.
Adding a fourth locker room allows shorter breaks between games, he noted.
While Tok feels that ice cost may be the bigger factor for getting AAA summer hockey teams to play at Hobbs, the added amenities should help encourage them to consider it as an option, he said.
Future attractions
On the back wall of the new Akervik Rink locker rooms, there is a gap in the benches and shelves at a spot reserved for a future door — a hint of a future project.
The locker rooms currently are just for changing clothes and donning gear, but the ice center plans to add restrooms and showers in coming years.
The city's capital improvement plan currently has that as part of a 2023-24 project costing $1.2 million. However, the timing and price of projects in the latter years of the city's five-year project plan are often subject to changes.
Future upgrades are needed to accommodate the large number of people using Hobbs, Newkirk said, especially during the winter months when it hosts multiple high school and collegiate hockey games in one day.
"This place is very, very busy," he said.
The facility's largest rink — the O'Brien Rink — also has surpassed the 40-year mark, which serves as the typical life span for a hockey rink floor.
With the Akervik Rink running on brand new parts it will be used year-round and the ice center will thaw out the O'Brien rink during off-seasons. This will cut down on utility costs for cooling a larger area, Newkirk said, and help extend the O'Brien floor's life until it can be replaced.
While there are costs to keep the facility current, Hobbs has also shown itself to be an attraction that brings money into Eau Claire.
Visit Eau Claire has done studies on tourism revenues tied to different special events and sports tournaments.
"Hockey was one of the highest yielding sports of the ones we surveyed," said Linda John, executive director of the local convention and visitors bureau.
One tournament alone brought in about a half-million dollars to the community in hotel, restaurant, store and other spending related to it, John noted.
Hockey also comes during cold weather seasons when tourism in Wisconsin slows down every year, providing a good revenue stream in winter for businesses that rely on visitors.
A portion of hotel room taxes collected in Eau Claire go toward Hobbs Ice Center, recognizing that it does generate tourist dollars.
In the city's 2018 budget, the ice center got a total of $331,900 in hotel taxes to help pay for operations and projects at the facility.