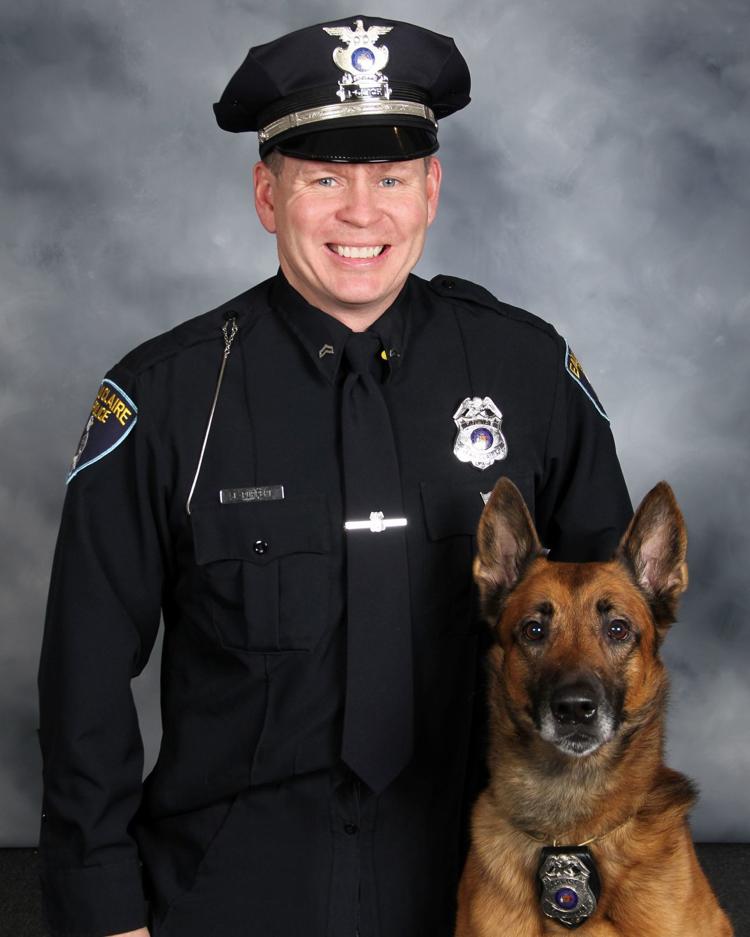 Weeks after he was arrested in a child sex sting, a Wausau man agreed to meet a 14-year-old girl in Eau Claire.
Before police could arrest Griffin Waldinger, he fled, leading officers on a high-speed chase — even though road conditions were slippery — before crashing his vehicle into a tree.
Waldinger took off, and Eau Claire police Officer Jason Ruppert, who was involved in the pursuit, yelled out the window for him to stop. Waldinger kept on running.
Ruppert then stopped his vehicle and released his four-legged partner — Duke — who took off after Waldinger, who was at least two houses away.
When he got close, Duke jumped up, bit Waldinger's arm in an effort to apprehend him and brought the man down to the ground.
"That was a good apprehension," Ruppert said. "To Duke, that is playing. That isn't him trying to harm someone."
Tonight, Duke — the Eau Claire Police Department's senior four-legged patrol officer — will join Ruppert for their last shift together.
The hard-charging Belgian Malinois is expected to spend the night whining, but that is a good thing, said Ruppert, partnered with Duke since 2011.
"He gets very excited when we're responding to calls," said Ruppert, who can hear Duke whining from the backseat of their K-9 patrol vehicle. "To Duke, that's not work. He's going to play."
To the 9½-year-old Duke, play is apprehending a suspect, searching buildings, tracking missing people and suspects, and using his nose to find drugs — he's trained to detect cocaine, heroin, marijuana, methamphetamine and MDMA, also known as Ecstasy.
"Duke has been an amazing dog for us for the last seven years, and we're proud of him," Deputy Chief Chad Hoyord said. "Jason has done an awesome job as a handler, and (together), they have had a good run."
Not having his partner in the backseat is going to be different in the coming year as is going from the midnight shift to the day shift, Ruppert said. However, for the next year, he plans to continue to train with the department's two other K-9 teams — Officer Ian O'Connell and Jake, a German shepherd, and Officer Austin Summers and Manso, a Belgian Malinois. Jake joined the department in 2017 and Manso in 2018. Unlike Duke, whose commands are in Dutch, Jake's are in German, and Manso's are in French.
"They always say you make more mistakes with your first dog," Ruppert said. "It's my goal that they won't repeat the mistakes I've made."
The department added its first K-9 officer, Marko, a 4-year-old Belgian Malinois, in July 1990, according to newspaper archives. He died in April 1995 following stomach surgery. Marko was followed by Arko, who retired in 2004. His replacement, Larry, didn't work out and was replaced by Franko, a black German shepherd who retired in 2011.
Ruppert, who has been with the department for 21½ years, got to watch Arko and Franko, and their handlers, Sgt. Mike Graf and Officer Bill Wisener, who have both since retired, on the job.
When the department was looking for another handler, Ruppert, who has always been interested in dogs, put in for the assignment.
In September 2011, he headed off for training in Albuquerque, N.M., where he was partnered with a dog, but that animal was unable to perform the necessary tasks to be part of a K-9 team. Ruppert and Duke then were partnered.
"I'm surprised how quickly we bonded," Ruppert said of his four-legged partner. "Maybe he knew I was there for him."
When the pair returned to Eau Claire, Duke joined Ruppert on the job and at home as the department's prior dogs had done.
"Jason is with Duke a lot, and that really creates a bond, a partnership," said Hoyord, a proponent of using K-9 teams.
"Before the department had a K-9 (team), if officers found an open door to a business, they'd have to go in and check the building," Hoyord said. "Now, you can send the dog in to search the building, potentially keeping officers out of harm's way."
In addition, "these dogs have an incredible sense of smell, and (our dogs) have been very useful to help us locate certain kinds of drugs and get them off the street."
Just recently, Ruppert and Duke assisted on a case, and Duke alerted on a vehicle, resulting in the seizure of about 180 grams of methamphetamine the biggest seizure of meth in the department's history.
Thinking back over their partnership, Ruppert recalled other calls on which Duke demonstrated his abilities.
In spring 2012, an elderly man with Alzheimer's walked away from home. Several hours after he left, Ruppert was called to see if Duke could potentially track the man, who had left in a T-shirt despite the cold weather.
The K-9 team responded and tracked the man for about a quarter-mile before finding him near the Chippewa River.
"That was pretty cool," said Ruppert, noting the man would have died in the cold had he not been found by officers. "One of the things you learn when you start out in this position is to trust your dog, and I do."
In February that same year, officers were sent to B&B Electric on Western Avenue after a burglar alarm went off. When they arrived, officers encountered one man and arrested him a short time later.
Duke, along with Ruppert, tracked a second suspect for several blocks before finding him hiding behind another business.
"That was pretty amazing," Ruppert recalled. "We were standing in a group of guys trying to figure out what we were going to do, and Duke just started pulling me to the guy."
"It's really amazing to see what these dogs can do, to watch them work through certain problems," Ruppert said. "Watching Duke progress to the dog he is now is one of the coolest things I've seen."
Over the years, "he has done an outstanding job, and I think he's going to enjoy retirement," Ruppert said. "I'm going to make sure he does."
As they have during his service to the city, Oakwood Hills Animal Hospital, Paws & Claws and Pet Food Plus will continue to help care for Duke, providing veterinary care, any necessary boarding and food.
"What they are doing has allowed us to have the program we have," Ruppert said.
---
TO HELP
What: Eau Claire Police Department K-9 Fund.
When: Established in 2006 to support the program.
Where: Eau Claire Community Foundation.
To donate: Send a check to Eau Claire Community Foundation, 306 S. Barstow St., Suite 104, Eau Claire, WI 54701. Make checks payable to ECCF and put K-9 in the memo.