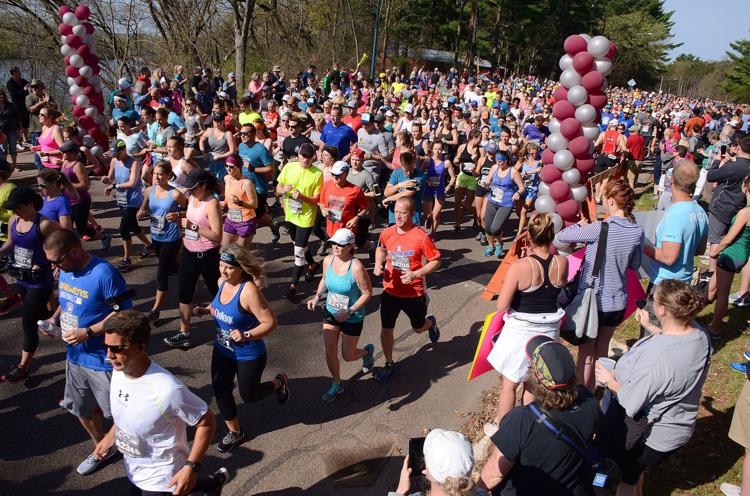 While many races have seen dwindling numbers or fizzled out completely, the Eau Claire Marathon continues to see growth from year to year.
Co-race director Pat Toutant said he believes one of the reasons the event has grown and maintained its numbers is the positive message to all runners.
"We feel everyone who crosses that finish line deserves a medal, a shirt and recognition for their accomplishment," Toutant said.
The 11th annual Eau Claire Marathon is Sunday, starting and finishing in Carson Park.
Co-race director Emily Uelmen said about 5,000 people have signed up to run one of the races. The four-person relay is sold out with 250 teams. There are 2,100 half-marathon competitors, and a record high of 700 marathon runners, which also is a sellout.
The 5K race is sold out with 700 runners, so organizers ordered more bibs and finisher medals, in hopes to have 750 to 800 runners on Sunday.
The children's races are also sold out, with 350 signed up.
The final numbers for last year's race show 455 runners completed the marathon, 1,949 ran the half-marathon and one half-marathon wheelchair participant, along with 244 four-person relay teams. There were 642 participants in the 5K race. In 2017, 383 runners completed the marathon and 1,667 runners completed the half-marathon.
Wade Zwiener, an avid Eau Claire runner who also has served as race director for area events, is impressed with how the Eau Claire Marathon has grown.
"I think it's pretty amazing, just knowing all the work that goes into it," Zwiener said. "There (are) a lot of logistics that people don't think about until they are a race director. There are so many events you are competing with, and they keep growing. I'm a bit jealous."
Zwiener praised the work of the race directors for making this such a big event.
"I think it's a good thing for the community," Zwiener said. "They've done a great job getting people out and supporting the race. They offer so many ways to get involved."
Tom Langley, an avid area runner, said he isn't surprised that so many of the races this weekend are at capacity.
"Certainly, Eau Claire has done a good job in getting the word out," Langley said. "They have a good product, and it's a great community event."
Langley said the race, which is always the first Sunday of May, is in a good spot on the calendar, typically about six weeks before Grandma's Marathon in Duluth, Minn. Langley will be out on the course on his bike, cheering on runners, including a handful of adults he's trained and coached to do the race. He said the big crowds that show up are another reason this race is successful.
"I think it's the family and friends being around, and (runners) get to show off what they can do," Langley said.
The Uelmen family designed the medals, which notes there are 11 bridges that runners cross, in finishing the 11th year of the race.
"I personally think this is my favorite of all our medals," Toutant said.
Toutant will be back in his usual spot at the final curve, right before the finish line in Carson Park, cheering on all runners.
Toutant is upbeat about the variety of participants coming this year. The University of Minnesota's running class is sending 70 students who have trained all semester to run the marathon. This year, myTEAM Triumph will be back with several teams pushing modified running wheelchairs. In addition, Jordan and Jeffrey Bergeman will be the official "charity chasers" at this years event. The father-and-son team will raise money for two causes — 4 Paws 4 Jeffrey and myTEAM Triumph — as they catch and pass other Eau Claire Marathon participants. To donate or pledge toward their effort, go to eauclairemarathon.com and select Get Involved and then Run for a Cause.
"Everything is looking great," Toutant said. "We're really excited. We've got some great runners lined up. And we have a lot of first-time marathoners and half-marathoners, which really excites us."
The good news is that the course is unchanged from last year, and that also means no changes to the list of road closures.
"We know this (race) inconveniences some, but we think it is worth it," Toutant said. "We get to show off the city and promote a healthy lifestyle."
About 900 volunteers will be on the course, along with several police officers. In recent years, the Eau Claire Marathon has donated about $125,000 to roughly 50 non-profit organizations.
Bridget Coit, Eau Claire Police Department public information officer, said there will be 40 additional officers on duty Sunday morning, handling the traffic closures and providing safety on the course.
"We are encouraging the public to check out (our Facebook page) as we reroute individuals, especially in the downtown," Coit said.
Coit said it is helpful that the route hasn't changed, as officers know what to expect and where problem areas could arise. She agreed that any traffic headaches are worth it.
"It's a great event for Eau Claire to host," she said.
Toutant said the race wouldn't be possible without the efforts of the city's law enforcement and street department workers.
"The city has been sweeping the streets and filling the potholes," he said.
A reminder that no traffic will be allowed into Carson Park on Sunday. Coit said any fishermen who plan to be out need to be in the park by 6 a.m. There will be shuttles routinely from parking lots at Menomonie Street, the UW-Eau Claire lot on Water Street and the Chippewa Valley Technical College parking lot No. 3.
The parking lot by the baseball field will be filled with vendors. One new feature this year is the special "26.2 beer" made for runners.
"It's a very unique beer, geared toward running," Toutant said.
While this is the 11th year of the event, it is the sixth straight year that Toutant and Uelmen have been co-directors.
Toutant hopes people come out and support the runners, rain or shine.
"The community has really embraced it," he said.