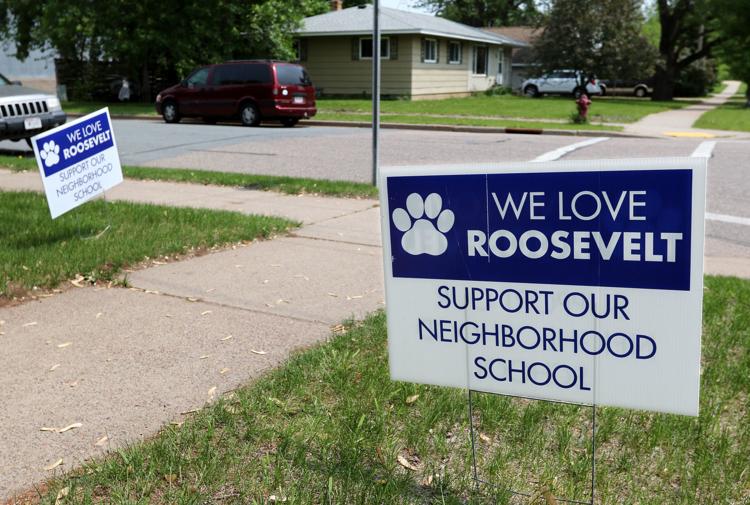 The Eau Claire school board did not, as expected, make a decision Monday night on potential elementary school boundary changes.
Instead, the board voted 3-2 to send the measure back to its Demographic Trends and Facility Planning Committee to spell out how possible boundary changes would affect district families before returning to the full board at its next meeting on July 22.
Board member Joe Luginbill made the motion to send the boundary change proposal back to the committee instead of voting on a plan recommended by the panel that calls for boundary changes at seven elementary schools in the northern part of the district.
Joining Luginbill, the previous board president, in supporting the motion were Aaron Harder and Charles Vue. Voting no were Lori Bica and Tim Nordin. Board president Eric Torres and Laurie Klinkhammer were absent.
After more than a year of discussing the issue and holding multiple public listening sessions, the demographic committee's recommended plan would require an estimated 275 students to change schools and affect families with children attending Roosevelt, Sherman, Lakeshore, Longfellow, Sam Davey, Locust Lane and Northwoods schools beginning in the 2020-21 school year.
But Luginbill pointed out that in the only previous redistricting vote during his four years on the board — in 2017 — members and the community had more detailed information about how the plan would be implemented and its impact on families.
While such matters are difficult for families, "one of the things that helps is for people to know — up or down — where they stand and to not have ambiguity," Luginbill said.
He asked the committee to outline every aspect of the plan, including what students, if any, might be grandfathered in to attending their current elementary schools.
"I feel we can mitigate many other future potential challenges if we go forward with a decision with complete and total clarity on all fronts," Luginbill said.
Nordin, however, responded, "I don't know that it's fair to ask families who have waited since October to wait another six weeks."
While Nordin said he doesn't know that his ultimate vote will please Roosevelt families who he complimented for their strong advocacy, he added, "I think we owe them their Monday nights back."
A key aspect of the recommended plan is that it keeps Roosevelt open. The committee originally had recommended that Roosevelt be shuttered and repurposed into a center for 4-year-old kindergarten, as the district had a need for additional space for that programming, and could've redistributed the students to other north side elementary schools that had space — including Sam Davey, Northwoods, Lakeshore, Longfellow, Locust Lane and Sherman.
But that recommendation sparked anger and frustration from Roosevelt parents, who lamented the possibility of losing their beloved neighborhood school after previous district promises to update and improve the school's facilities.
The proposal that called for closing Roosevelt was the cheapest of three major options considered by the committee, with a cost between $17.5 million and $21 million, according to district projections.
A second option, which involved retaining Roosevelt as an elementary school and expanding the facility to accommodate enrollment while coming up with another plan to address 4K needs, was projected to cost $46 million to $51.9 million.
The recommended proposal is projected to cost between $31.5 million and $35.5 million.
In a public comment period before the vote, Roosevelt parent Justin Hendrickson told the board, "It's hard to describe how angry, frustrated and dejected I feel about my participation in this process," particularly the committee's failure to take into account all of the community input.
After the vote, Hendrickson wasn't happy about waiting longer for an answer and also was disappointed the board still seems inclined to support the committee's recommended plan, which would save Roosevelt but move his three elementary age children from the Roosevelt to Sam Davey attendance area.
"They're OK shuffling kids around like a deck of cards it seems," Hendrickson said. "I'm sure Sam Davey is a great school, but it's not our school."
Hendrickson's wife, Kelly, previously submitted a flexible boundary plan that would have required only about 23 students to switch schools and since has offered revisions to address concerns. The board directed the demographic committee to study the plan.
Committee chairman Phil Lyons told the board Monday that Kelly Hendrickson's proposal, dubbed the "Flex Plan," offers the advantage of disrupting fewer families but would add busing and clerical costs while failing to adequately alleviate overcrowding at Roosevelt by grandfathering in existing students.
"There was a concern by the committee that what it was doing was just kicking the can down the road," Lyons said.
Nordin also noted that committee members believe the large class sizes resulting from overcrowding at Roosevelt are harmful to students in terms of education.
"If that's the case, then we should stop the harm as soon as possible," he said, arguing against the grandfathering proposed in the Flex Plan.
The committee's recommended proposal seeks to get the enrollment at all of the affected schools between 75 and 85 percent of capacity, which Eau Claire schools Superintendent Mary Ann Hardebeck has called ideal in terms of maximizing resources to provide the best education possible for all students.
Enrollment projections indicate Roosevelt is nearing capacity, and district officials indicate the recommended changes would keep the school at around 70 to 80 percent of capacity.
The proposed changes represent the first phase of an effort to address overcrowding in some Eau Claire schools. A key goal of the next phase would be to deal with crowded conditions in south side elementary schools, some of which have reached 90 to 95 percent of capacity.