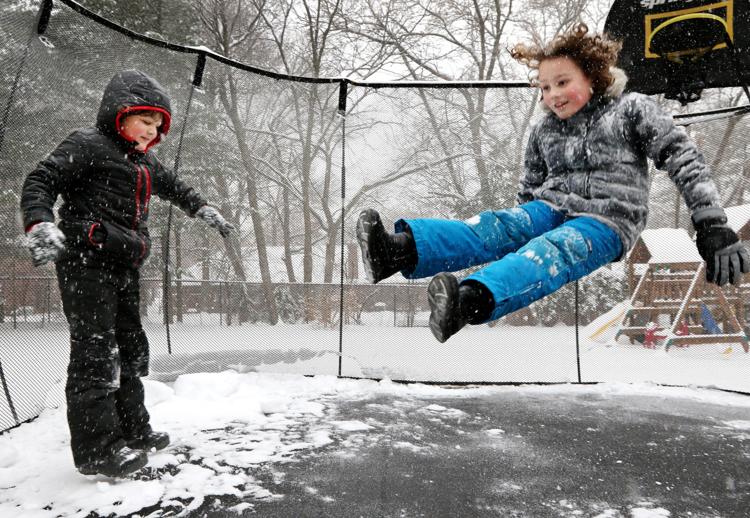 With another round of snow to blanket the Chippewa Valley on Thursday came another round of school closures, marking the sixth day of no school in less than two weeks for many families.
"Is it that many? ... Wow, I'm losing count at this point," Jessi Irwin said through chuckles Thursday morning, while playing with her two rosy-cheeked sons, Crestview Academy fourth- and second-graders Noah and Josiah, in their snow-covered south side backyard.
After the National Weather Service declared a winter storm warning across west-central Wisconsin, estimating 4 to 8 inches of snow with whiteout conditions, the Eau Claire school district announced there would be no school, as did the Altoona, Chippewa Falls and Menomonie districts.
This closure followed a two-hour delay on Wednesday, a closure Monday and four others the previous week.
Though the Eau Claire school district builds in several days in case of inclement weather to the academic calendar, schools Superintendent Mary Ann Hardebeck said the district has now used them all and must add days.
"We still have to account for the additional instructional time that students have missed and may miss as the winter months continue," Hardebeck said in a statement.
Options for the makeup time will be discussed at the next school board meeting on Feb. 18, Hardebeck said.
For many parents like Jessi Irwin, Thursday was yet another day of trying to keep the kids occupied and keeping them away from television screens and video games as much as possible.
"At least we can be outside today," she said. "I'm happy with the district's decisions to close. You're talking about kindergartners waiting outside and high schoolers driving, so I think it's best to err on the side of safety."
"It's just a little intense to have it all happen in two weeks, you know?" Irwin added after some thought, shaking her head and laughing.
"Sometimes," 7-year-old Josiah admitted, asked whether he's been bored on some of the days off.
"I think I like summer better now," 10-year-old Noah added. "Winter's just too cold."
Kids and parents aren't the only ones beginning to get tired of Mother Nature's winter frenzy of late.
Without consistent school over the last couple of weeks, Brittany Pettis, a sixth grade special education teacher at DeLong Middle School, said it's been difficult to get much accomplished in the classroom.
"I think all teachers would agree with me that our instruction has felt very choppy when we're missing so many days of school," she said. "Kids miss out on that routine — we make progress, and then weather like this happens and then it's like we start all over again. And then we start all over again with another one."
Pettis recommended parents keep their kids reading, writing and thinking about numbers during breaks like this.
"Anything like that is helpful so that when they come back it's somewhat fresh in their minds," Pettis said.
North High School English teacher Andrew Patrie said in his 21 years of teaching, he cannot remember a year quite like this. Though the 2013-14 winter also had a cold snap that caused a similar amount of school cancellations, they weren't strung together within such a short period of time, Patrie recalled.
"It's been crazy," Patrie said, laughing. "There hasn't been traditional class since Jan. 25. Every time we've met, there's either a modified schedule due to other things going on, a cancellation or a delayed start. ... Kids are resilient and been going with the flow, but it's hard to get anything accomplished."