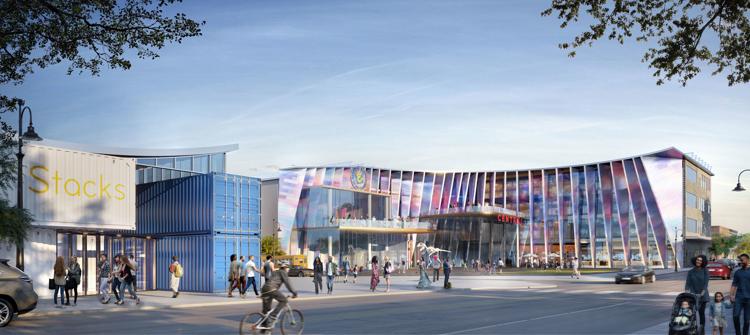 Eau Claire-based Pablo Properties has withdrawn its proposal to create office buildings and a new children's museum on two downtown city lots.
The group that has become known locally for revitalization projects, business ventures and philanthropy recently informed the city's economic development division that its plans for land along North Barstow Street won't be moving forward.
Unveiled in autumn, Pablo Properties' plans included an upscale four-story office building with glass walls, a new Eau Claire Children's Museum and an additional office building with lower rents to foster new start-up companies. The project had an estimated $32 million value.
Aaron White, the city's economic development manager, delivered Pablo Properties' letter to Eau Claire's Redevelopment Authority during that group's Wednesday morning board meeting.
Changes with clients who were lined up for office space and rising construction costs impacted the financial viability of the project, even after some changes were considered, according to White.
"They made a great effort to try and revamp the project," he said of Pablo.
White said Pablo Properties considered adding residential units, looking at the retail sector or other mixes of uses for the sites, but ultimately decided they had to step away from the project.
"The main issue was forecasted financial feasibility," Julia Johnson, a partner in Pablo Properties, said in an email to the Leader-Telegram.
Even assuming 90% occupancy at market rate for premium office space in Eau Claire, she said rental income didn't cover costs due to current construction prices, the project's expected value and common areas that wouldn't generate revenue.
"In efforts to make the project feasible we removed exciting features like a rooftop greenhouse, we stopped figuring lower rents for grocery store and we standardized building construction in many aspects. We looked at adding residential to the project as well," Johnson said. "Other variations changed the project so substantially that our reasons for doing the project dissolved."
Pablo Properties' owners, staff and hired consultants spent countless hours and considerable dollars on the plans, she said.
"We diligently explored our options to make the project work and did not come to this decision lightly." Johnson said of withdrawing the plans.
The buildings were slated for two lots owned by Eau Claire's Redevelopment Authority. One lot is along the east side of the city's North Barstow area parking ramp while the other parcel is a neighboring temporary surface parking lot known as Block 7.
In the next couple of weeks, the RDA will put out a call for new development proposals for the land, hoping to see the same fervor that prompted multiple parties to compete last year.
"With the interest that was shown on the sites we want to get the word out again that they're open for proposals," White said.
Pablo Properties won exclusive rights on Nov. 21 to negotiate a development agreement for the RDA land, beating out proposals from three other companies that also sought to develop the prime downtown real estate.
Even after that, White said the city has still gotten calls from developers inquiring about the land.
While Pablo is out, that doesn't rule out a new children's museum on Block 7, which had been part of multiple development proposals sent last fall to the city.
"We remain committed to opening a new Children's Museum, along with a new home for the Family Resource Center and preschool with Eau Claire Area School District, on Block 7 in 2021," Michael McHorney, executive director of the Children's Museum of Eau Claire, wrote in a statement to the Leader-Telegram.
Following Pablo's withdrawal, McHorney said he contacted other developers with a known interest in Block 7 to express the museum's continued desire to relocate there from its current location, 220 S. Barstow St.
McHorney also thanked Pablo Properties for the effort the group had put into its vision for Block 7.
"This speaks volumes to the kind of transformation and impact they are looking to make in downtown Eau Claire," he wrote.
Pablo Properties is currently working on other redevelopment projects, including conversion of the former Syverson Lutheran Home into apartments and major renovation of an old rowhouse building on Oxford Avenue into condominiums.
Pablo Properties is led by Jamf co-founder Zach Halmstad and two others who were in on the ground floor at the locally created software company — Julia Johnson and Jason Wudi. The group is responsible for Jamf's office building in the North Barstow area, thoroughly revamping an aging downtown hotel into The Lismore Hotel, creating downtown co-working space CoLab, operating multiple restaurants and coffee shops, and making a large donation to the Pablo Center at the Confluence.