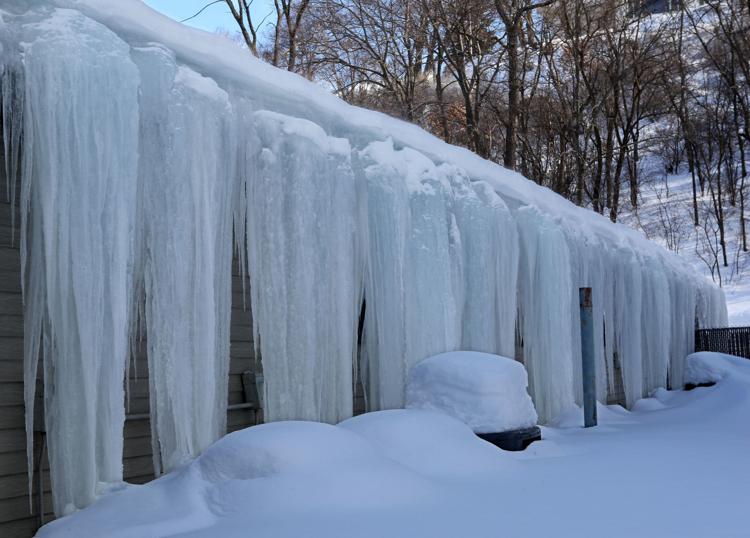 Trouble in the form of icicles is hanging from eaves and rooflines across the Chippewa Valley and elsewhere in Wisconsin, posing a wave of problems caused by water that is already damaging some structures.
Record snowfall in Eau Claire and other locations in this part of the state has piled on roofs, causing collapses of barns, sheds and other buildings. Those heavy snows on top of one another (the region has received about 60 inches of snow since Feb. 1) have also caused significant ice dams at many properties, buildups that can lead to water leaks that can damage structures.
Kim Carey is experiencing an ice dam double-whammy. The ceiling of the office where she works at Bolton Refuge House, a downtown Eau Claire shelter for domestic abuse and sexual assault victims, and that of the agency's executive director, Pat Stein, were leaking water Tuesday, thanks to ice dams along that building's roofline.
Large icicles along the building's north side were broken off in recent days, but the site's southern end is nearly completely walled off by a sheet of icicles that have joined together and resemble frozen waterfalls.
"When you look at that wall of ice," Carey said of the building's north end, "it's amazing ... When you look out the windows on that side, all you see are these giant icicles."
Icicles at the site are dripping from melting snow on the Bolton House roof, she said, and leading to ice and water under the snow, which then flows toward the building and leaks inside.
Carey's Eau Claire home is being impacted by melting icicles as well, she said. A similar phenomenon there has prompted leaking water that is damaging parts of the house, including a hickory wood floor installed just two years ago.
"You can hear this pop, pop, pop," Carey said, "and then you see that the wood floor is buckling. It's really sad to see."
Other homeowners and owners of commercial buildings said they're experiencing similar ice-induced troubles. Eau Claire resident Pam Swanpole pointed to giant icicles lining one side of her northside home as the likely culprit of water leaking through a ceiling inside.
"We cleaned off snow up above the eaves as best we could," she said of a recent effort to clear some snow from her home's roof, "but we still have the problem."
The plethora of icicles has meant busy times for roofers and other building contractors who remove snow and ice dams. Stacia Moreland, office manager with Chem Master Carpet Cleaning and Restoration of Eau Claire, said the company has been flooded with calls from homeowners and businesses seeking to have snow cleared and ice dams removed. Chem Master removes snow from roofs and uses steamers to thaw ice dams.
During one recent day, the company placed 31 callers seeking those services on a waiting list because demand outstripped the number of available workers. Moreland said she has referred callers to other providers so they can receive service as promptly as possible.
"We are getting so many calls for this," Moreland said Tuesday. "The phone just keeps ringing."
That has been the case for other businesses offering to clear roofs and melt ice dams as well. Ken Attinger, head of operations for Eau Claire-based TEK Roofing, said he recently was receiving calls from homeowners seeking snow and ice dam removal services about every five minutes.
The company is a commercial contractor but has been assisting homeowners with those tasks as much as possible because of the high demand, he said.
"We're doing what we can because we know the community needs the help," Attinger said.
Because of that need, those whose buildings aren't already leaking water are placed on a waiting list, he said.
"If you're not leaking right now, you're not going to be a priority for a week or two," he said.
Leak issues
Swanpole's roof-clearing effort is exactly what experts recommend when it comes to preventing ice dams. Ridding snow from roofs is one way to prevent ice dams and icicles from happening, they said.
Ice dams are ridges of ice that form along roof edges and prevent melting snow from draining. The water that backs up behind such dams can leak into a home and cause damage to walls, ceilings, insulation and other areas.
Those dams tend to form when the portion of the roof over an attic becomes warm enough to melt the underside of the layer of snow on a roof. Water trickles between the layer of snow and shingles until it reaches the eaves, which stay cold because they extend beyond the side of the house. There, water freezes, gradually growing into an ice mound.
Dams and icicles that subsequently form can damage gutters, siding and shingles, then provide a means of water leaking into structures. Dislodging icicles from roofs can allow more snowmelt to drain, Attinger said, but large icicles can damage siding or windows as they fall.
Removing ice dams from rooflines can be problematic, he said, because doing so often damages shingles. Hiring a crew to use steamers to do that work is a preferred method, he said, but that price tag totals hundreds of dollars or more and is not affordable for many.
Oftentimes the most practical option may be to remove snow from a building's eaves so as temperatures warm melting snow can flow more easily from roofs and not be impeded by ice dams, he said.
With temperatures expected to reach the mid-30s this weekend, Attinger and Moreland said they're concerned about melting snow resulting in more icicles, ice dams and leaks. Carey said she's worried too.
"When it gets warmer, I fear a lot of other people are going to have water problems too," she said.