EAU CLAIRE — Wisconsin's deer hunting tradition, like so many other aspects of life, will be different in 2020.
At least that's the hope of public health and natural resources officials with the state's annual nine-day gun deer season about to start amid a surge in the COVID-19 pandemic.
With the season set to kick off on Saturday, hunters are being asked to follow COVID-19 safety protocols even as they stalk their trophy bucks.
"We want everyone to get out and enjoy the season," said Kris Johansen, regional wildlife management supervisor for the state Department of Natural Resources. "But just as we've grown accustomed to this year with everything being different, deer season is going to have a little different flavor this year."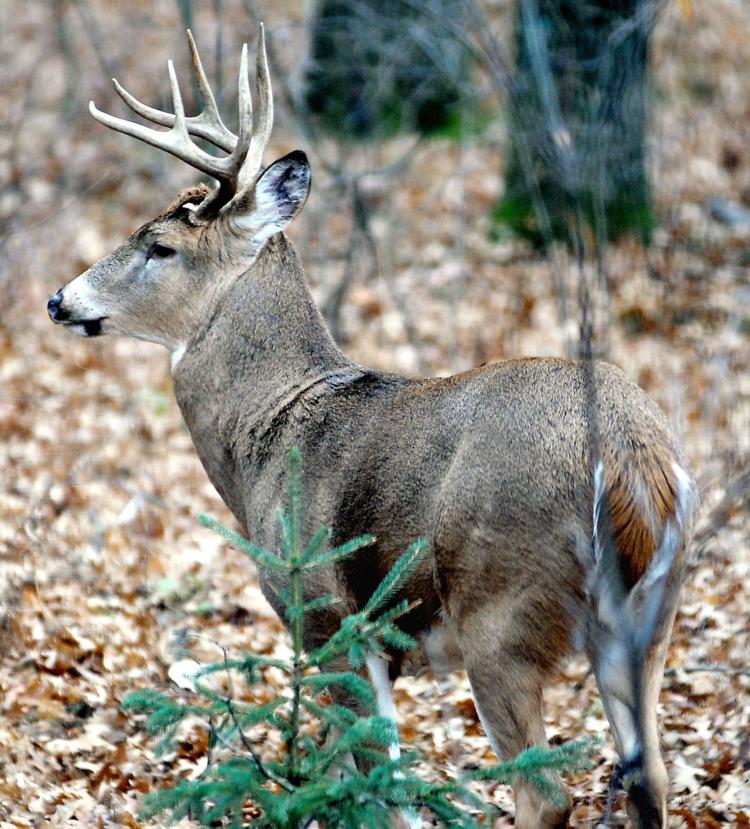 Yes, that means hunters, just like everyone else in Wisconsin, are urged to wear masks when they are near other people, keep 6 feet away from others, wash their hands frequently and avoid gathering with individuals from outside their households.
While those safety measures shouldn't pose a problem for hunters while they are out in the woods, the challenge could come between hunting sessions.
That's when many hunters traditionally retreat to deer camps, where they gather in close quarters to share food and drink, swap stories and make memories. Unfortunately, this year that's also when officials say hunters could be most at risk of contracting or spreading the coronavirus.
"The deer hunting season is proceeding as normal, but we're reminding hunters that COVID-19 is at the forefront and asking them to do their part to stop the spread," Johansen said.
After seeing nearly 3,800 people sickened and 42 die from COVID-19 in just her county, Chippewa County Public Health Director Angela Weideman is extremely concerned that deer hunting could make a bad situation worse.
She pleaded with hunters to follow the familiar safety guidelines, especially in deer camps.
"I understand deer hunting is a huge tradition, almost a holiday, in Wisconsin, and it's important for people to get outside and do things they enjoy," said Weideman, who comes from a hunting family. "This doesn't mean they can't see other people, but they need to stay 6 feet away from each other."
For hunters who choose to gather, ideally they will prepare their own food, use their own utensils and maintain social distancing even while eating, she said.
Some hunters unwilling to give up deer camp completely may come up with their own solutions. Johansen said he has spoken to hunters who plan to skip the family cabin, arrange for separate households to bring their own campers and maintain physical distancing when socializing.
Matt Schneider of Chippewa Falls, perhaps influenced by his role as regional communications manager for Marshfield Clinic Health System, is one of those hunters who is heeding the advice of public health officials and changing his treasured hunting traditions because of the pandemic.
"I have had to miss Christmas, Thanksgiving and other family functions over the years, but I have always made it home for deer hunting" — until this year, Schneider said. "Knowing and seeing the crisis we are in, and the stress our frontline health care workers are under, my wife and I agreed staying home and to ourselves this year is our way of doing our part to help bend the curve."
While the decision not to join his wife's family on 50 acres of prime hunting land in Mount Horeb was difficult, Schneider won't miss out on the hunting season entirely, as he and his oldest daughter, Emma, found a place to hunt locally and plan to use technology to stay connected and share experiences this year, Schneider said.
Meanwhile, his wife and youngest daughter will keep their "hunting season" tradition alive by making cookies and sharing time with relatives using video chat technology.
"It will be different and we will adapt, but we won't let COVID take away our family traditions," Schneider said. "The trade-off is worth it to us."
Jess Carstens, DNR area wildlife supervisor, said the pandemic will alter hunting season for a lot of people in 2020.
"We've never tried to hold a deer season with a worldwide health crisis going on," Carstens said, noting that the season will start at a time when COVID-19 cases and deaths are setting records at the local, state and national levels.
In addition to promoting safety protocols, state officials are urging people to stick close to home and hunt with individuals from their own household as much as possible.
"Wisconsin is in crisis — our case numbers are rising and our hospitals are strained," Department of Health Services Secretary-designee Andrea Palm said in a news release. "Each of us must do our part to stop the spread of COVID-19. Limiting your interactions with people outside your household is a key step, so we ask hunters to reduce their travel and to hunt with people you live with."
Chronic wasting disease continues to be a concern regarding the state's deer herd, and the DNR once again will collect deer heads for testing.
Managing CWD begins with knowing where the disease exists on the landscape, and that knowledge is only possible with robust sample numbers provided by hunters, Johansen said.
CWD is a contagious, fatal neurological disease of deer, elk and moose that is caused by an abnormal protein called a prion. These prions cause brain degeneration in infected animals and lead to extreme weight loss, abnormal behavior and loss of bodily functions. Testing for CWD can only be performed after the animal's death.
While the agency is seeking samples from several parts of the state, it is a high priority to test deer from a surveillance area southwest of Eau Claire where seven CWD-positive wild deer have been identified in the past few years.
That area is comprised of the towns of Pleasant Valley, Brunswick, Washington and Drammen in Eau Claire County, the town of Rock Creek in Dunn County and the town of Albany in Pepin County. Self-service kiosks for sample collection are set up at all of those respective town halls and generally are more widely available this year to limit personal contact with others.
"We've had positive detections there and we want to try to remove as many potentially infected deer from that area as possible to help stop the spread," Carstens said, pointing to how CWD gets passed along in places where deer are in close proximity to each other, much the way COVID-19 spreads among humans.
When it comes to the quest for deer, hunters in west-central Wisconsin should encounter healthy deer populations.
"We have ample opportunities to harvest not only a buck, but antlerless deer as well," Johansen said, citing an uptick in the number of deer killed this fall by bow hunters as a key indicator. "Some people should get a chance to shoot the buck of a lifetime. It happens every year."
With high temperatures forecast around 40 degrees on opening weekend, conditions should be relatively comfortable for hunters to sit in area fields and forests, although snow cover would improve tracking and visibility, Johansen said.
As of Nov. 9, the DNR reported that archery license sales were up 12% and gun license sales up 9.5% from the same date last year.
That boost in interest likely can be attributed in part to people having more time on their hands during the pandemic and viewing outdoor pursuits as safer than indoor activities, Johansen said.
"I think a lot of people are really looking forward to getting out in the woods and letting their brain relax after a stressful year," he said. "Hunting is a great opportunity for people to recreate and be out in nature and yet socially distance and not put themselves at risk."