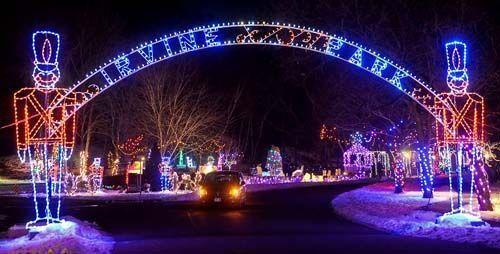 A beloved Chippewa Valley holiday season attraction is returning in 2020, with a few small adjustments.
The Irvine Park Christmas Village in Chippewa Falls will continue as scheduled despite the COVID-19 pandemic. The holiday light display will open on Thanksgiving Day, Nov. 26 from 5 to 9:30 p.m., and will close Jan. 1.
Dick Hebert, Chippewa Falls Parks, Recreation and Forestry director, said the Christmas Village staff are appreciative of being able to put on the display for more than three decades — even more so in 2020, due to many other public events being postponed or canceled.
"We're very thankful once again that the community has stepped up to help us set up the Christmas Village," Hebert said. "Over the course of our 33 years putting on the Christmas Village we've had thousands of people volunteer. The reason the Christmas Village is successful is every year people volunteer their money and their time. And for a lot of people, volunteering time is a bigger commitment than donating money."
However, a few other events traditionally a part of the annual Christmas Village calendar will not be taking place due to COVID-19.
The "Run for the Lights," Chippewa Valley Newspapers' Walk Through the Park event, horse-drawn wagon rides and the walking-only nights will not occur, due to coronavirus safety protocols.
Hebert said the decision to voluntarily cancel these events is in the best interest of the Chippewa Valley community and attendees of the Christmas Village.
Walking through the park will still be allowed, he said.
"Because of COVID-19 there are some things we can't do and chose not to do this year," Hebert said. "But people can still walk through the park any time they want, we just ask that they wear a mask and social distance as much as possible."
New to the Irvine Park Christmas Village in 2020 is a police department display, one which has been many years in the making.
"It's something the Christmas Village community has always wanted to do," Hebert said. "We finally were able to complete that addition to the display and we are very happy to have it. I am happy to be able to provide it to people, especially during the COVID-19 pandemic."
Construction and setup of the Christmas Village began Sept. 18 and has drawn over 200 volunteers so far.
People interested in volunteering for the takedown of the village after New Year's Day can contact the Chippewa Falls Parks and Recreation Department at 715-723-0051.