A Saturday incident in which a snowmobiler ran down a mushing team on a Bayfield County trail has generated attention across the country from well-wishers who are contributing to the team's treatment and a $1,000 reward for information about the culprit.
Ryan Redington, 39, whose grandfather Joe Redington Sr. founded the Iditarod Sled Dog Race in Alaska 50 years ago, was training with a 15-dog sled team at about 6:45 p.m. Saturday on the Tri-County Corridor that runs between Ashland and Superior.
He and his training partner, Sarah Keefer, spend half the year at their kennel in Brule and make good use of the Corridor.
"We like it because its multi-use and very wide with good visibility," Keefer said. "You can see someone coming and they can see you coming. We get along really well with the snowmobilers; we ourselves are snowmobilers."
But on Saturday night, everything changed.
It's not unusual for Redington to encounter snowmobilers on the Corridor. He and Keefer, like other mushers, are happy to share the space.
They take precautions, using harnesses bearing reflective tape, dog collars with flashing lights and headlamps to alert others on the trail.
On Saturday night, all Redingon really remembers is a headlight coming toward him — fast.
"The person on the snow machine, he was head-on passing us and he swerved his machine right toward the dogs and myself," Redington said. "He struck my dogs as he passed and barely missed me. I saw him coming and slid my butt over off the trail and into the snow, and he still came right at us. I saw Wildfire get tossed in the air, and the guy didn't stop. He kept right on going."
Redington's first thought was for his dog Wildfire, a 3-year-old Alaskan husky that is the team's sparkplug and who took the brunt of the collision.
"He finished the Iditarod with me last year in seventh place, and he was still barking and wanting to go at the finish line," Redington said. "He's the cheerleader of the whole group."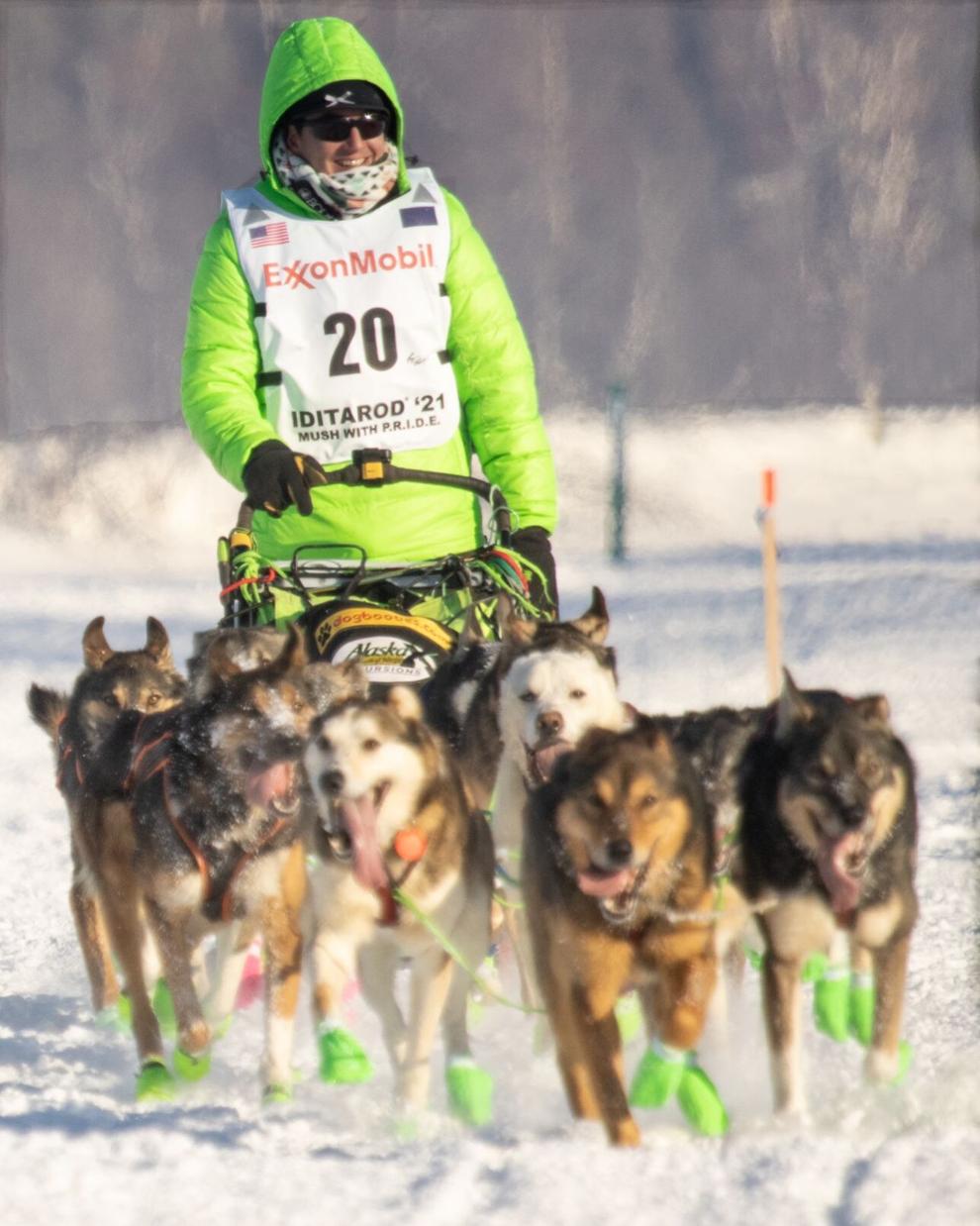 Wildfire was badly hurt. But as he tended to his dog, Redington's next thought was of Keefer, who was a couple of minutes behind him on the trail with her own team.
"We were almost back to the kennel, about three miles from the kennel," she said. "The first thing I experienced was a snowmobile going very fast, right down the middle of the trail. It just veered off at the last second to avoid my dogs. A minute later I caught up to Ryan, who had parked his team with snow hooks and he shouted at me, 'Did that guy hit you?' And then he told me his team had been hit and that Wildfire was in bad shape. I couldn't believe it."
The two comforted Wildfire and called a friend for help. Then they phoned police.
"While we were on the phone with police we saw anther dog holding his leg funny. He has lacerations on his leg as well, Willie, a star lead dog. And the others were kind of sore and more shaken. But Wildfire, he has three broken bones in his left rear leg, and they're all right around his knee."
Bayfield County Sheriff's deputies took a report, but there wasn't much Redington or Keefer could tell them.
"He went by at such a high rate of speed, and I was doing my best to get myself out of the way," Redington said. "It happened so quick – I just was watching Wildfire go up in the air. I don't remember what the machine looked like or anything. I would bet he was going 60 mph."
Keefer thinks the machine might have been orange and black, but she's not certain. All she saw was a single rider aboard.
"If I had known what happened to Ryan I would have paid more attention," she said. "I only looked at him for a second and then my attention was back on my dogs."
But one thing is certain: There was another snowmobiler right behind the culprit. And that gives them hope — even if police are pessimistic.
"Given the lack of description, there is no way to find this machine or the operator," the Bayfield County report says.
Almost immediately after the incident, word spread through the mushing community like, well, wildfire.
Word quickly reached fellow racer Quince Mountain, who lives in Oconto County near Green Bay and has competed against Redington.
"This guy left my friend on the trail with broken, bleeding dogs," Mountain said. "He didn't know if Ryan could make it out of the ditch and back to a road. He didn't even offer to help or call for help. He was most concerned with getting out of there.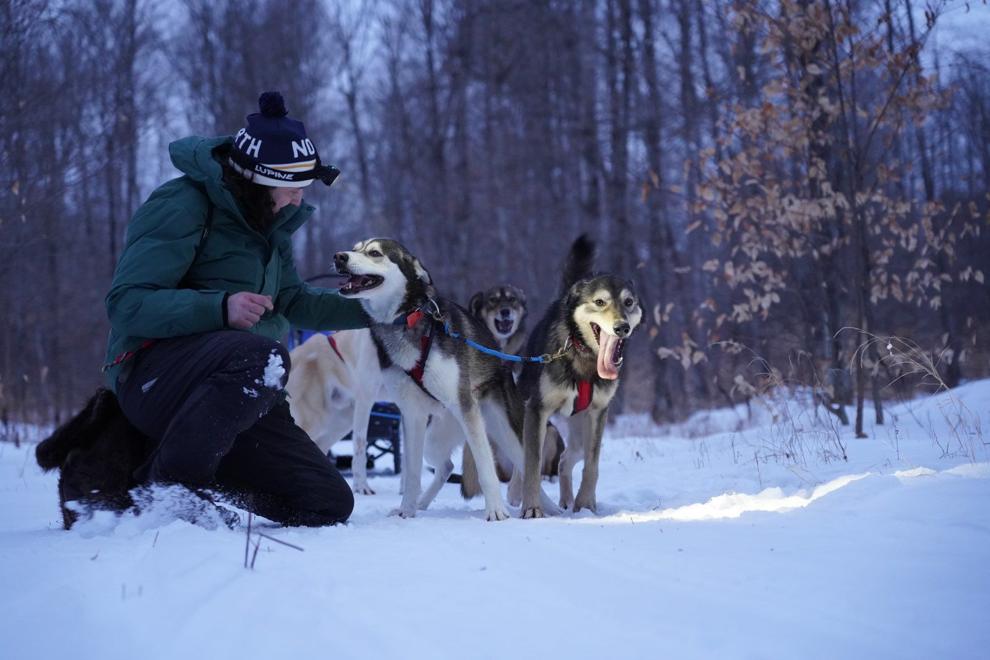 "It's hard to see how it could have been an accident. Could have been a drunk person. Could have just been an idiot."
Whichever he was, Mountain was determined to bring him to justice. He started a reward fund that was up to $1,000 in just a couple of days, money that will go to anyone who can identify the snowmobilers.
"That's come not only through the mushing community, but through the fans of dog sledding. It's a very tight-knit community. Fans call themselves the UglyDogs, and they're very organized and motivated."
Mountain is so determined, he said, in part because of who is involved. Redington's grandfather started the Iditarod just as snowmobiles were being introduced, in an attempt to preserve the bloodlines of dogs that were to the frozen north what the horse was to the American West.
But Mountain also feels for Redington and his team.
"These are our dogs," he said. "We have relationships with them. They're family. Sometimes people will say, 'How do you know the names of all your dogs?' That's like asking a teacher how they know all the names of kids in class. They all have different personalities. The old ones teach the young ones. And on a race, your lives depend on each other."
As Mountain was organizing a reward fund, Keefer began a GoFundMe site in hopes of raising the $9,000 to $12,000 that reconstructive surgery on Wildfire's leg was expected to cost — if a Minneapolis orthopedic surgeon could save the leg at all.
"I was pretty confident that if we asked for help covering veterinary expenses, we would get it," she said. "I estimated it would take about a half hour. I was wrong. It took 40 minutes."
But still the fund kept growing. On Tuesday, when Wildfire was scheduled for his operation, it was gaining $1,000 every hour or two and by Wednesday, it was approaching $40,000 in pledges.
Meanwhile, Wildfire was in surgery for a total of about eight hours Tuesday, Keefer said.
"We took a short walk this morning, but he's still pretty out of it," she said Wednesday. "He can't put any weight on it, so it was a three-legged walk. It took them longer than they expected for the break in his femur, but they said otherwise it was a near-perfect surgery. We just have to keep him off it now and watch out for infection."
Redington, Keefer and Mountain are determined not to let the incident create a rift between mushers and snowmobilers.
Redington was back on the trail Tuesday when he spoke with a reporter on his cellphone, training for the Jan. 30 John Beargrease Sled Dog Marathon in northern Minnesota, and he had had no problems.
"We met snow-machiners today and I took a photo of one giving us a thumbs up," he said. "There's plenty of room for all of us on this trail. It's been nothing but positive every year that we've been here."
In fact, snowmobilers more often than not want to stop and chat with mushers when they encounter one another.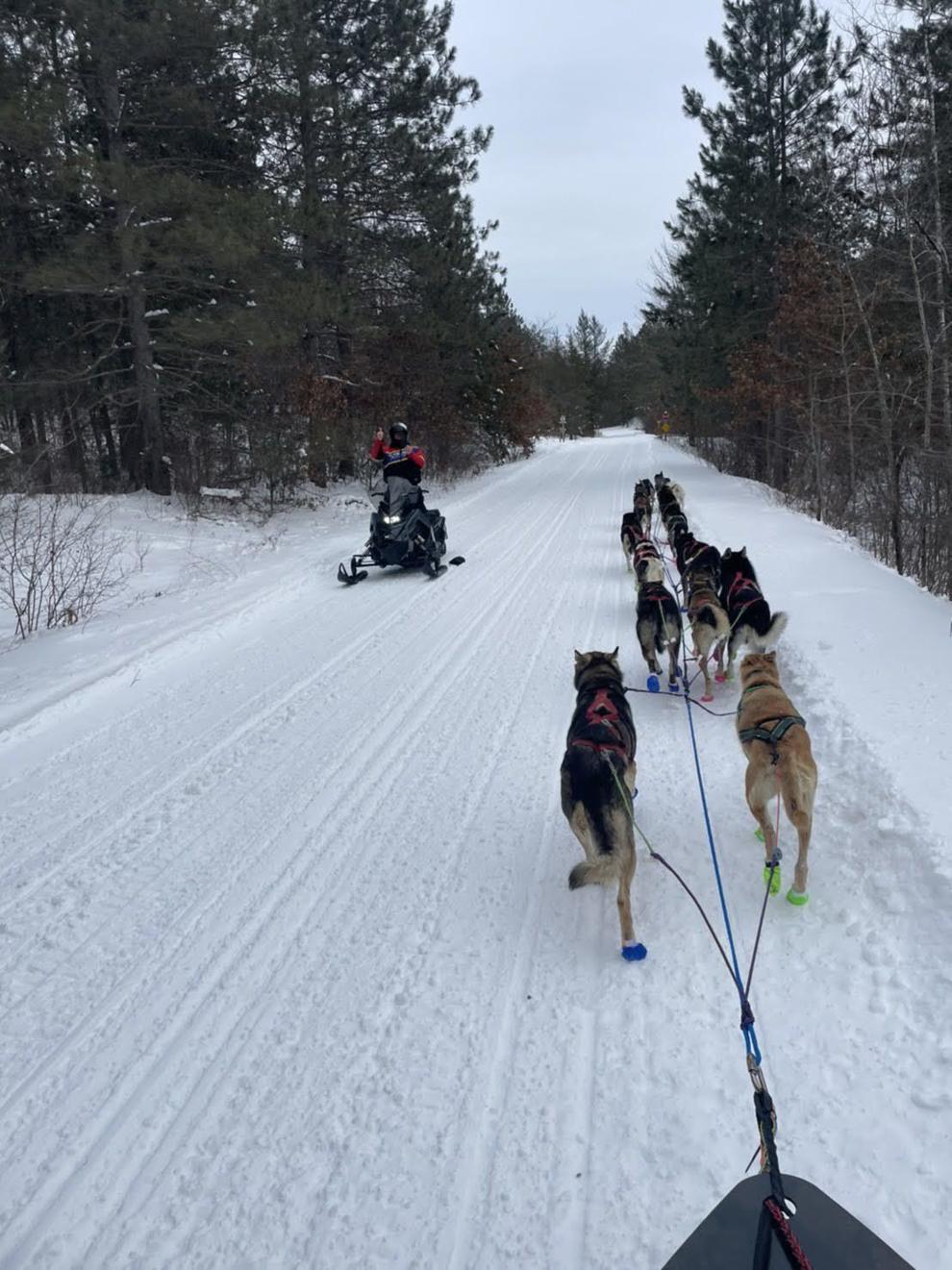 Why one would intentionally run down a dog team mystifies Redington and Keefer.
"Sometimes I count how many snow machines we pass, and there were dozens that day," Keefer said. "It was a beautiful day and it had been cold so by Saturday people were eager to get out. Snowmobilers often want to stop and have their pictures taken because it's a neat experience for them to see mushers."
For now, Redington is grateful for the support he's received from as far away as Germany, and hopeful that the reward prompts someone to come forward.
"I sure hope so," he said. "I'd like this never to happen to anyone again. No one should experience it. But the calls and messages and prayers, it's keeping us going. Wildfire will have to go through rehab and everything, and I don't know if he or Willie will be mushing again. They want to minimize exercise for 12 weeks, which is going to be tough for a dog like Wildfire that always wants to go. But we'll do it together and we'll get through it."