DURAND — If you didn't know any better, he might not stand out.
Show up early to a football game at Durand this fall, and you might not have even noticed Simon Bauer. Scoping out the Panthers as they got loose during warmups would have revealed some head-turners. There was a pair of towering tight ends standing taller than 6-foot-3. There were linebackers built with muscle and the height to match it, and linemen who looked like they could pull the turf right up off the ground.
Amid the crowd, the 5-foot-8, 180-pound Bauer probably wouldn't catch many glances. But as soon as he touched the ball, he'd prove looks can be deceiving.
Nobody packed as much of a punch as the Panthers' senior running back this fall. Defenses could load up the box with as many players as they wanted, and it still never felt like enough. Trying to tackle Bauer alone was like trying to patch a gaping hole in a sinking ship with a bandage.
"For his size, he was a very punishing runner," Durand coach Rod Rosemeyer said. "He rarely, if ever, got tackled going backward. He was always falling forward, and he made a lot of defenders pay for how hard he ran."
Bauer has the numbers to prove it. He put together one of the greatest statistical seasons by a running back in state history, rushing for 2,805 yards and 43 touchdowns. He gained more yards on the ground individually than some entire teams did this fall, and helped his own squad reach the Division 6 state semifinals.
He's already been named a first team all-state player by the Associated Press and Wisconsin Football Coaches Association. Now he caps his remarkable season with one more honor. Bauer is the Leader-Telegram's 2021 All-Northwest player of the year.
"It was just an incredible year," Bauer said. "We did something that doesn't happen very often. The team worked hard for this. We put the time in and really dedicated ourselves to get to that point. That's why we were successful, because of the hard work and dedication."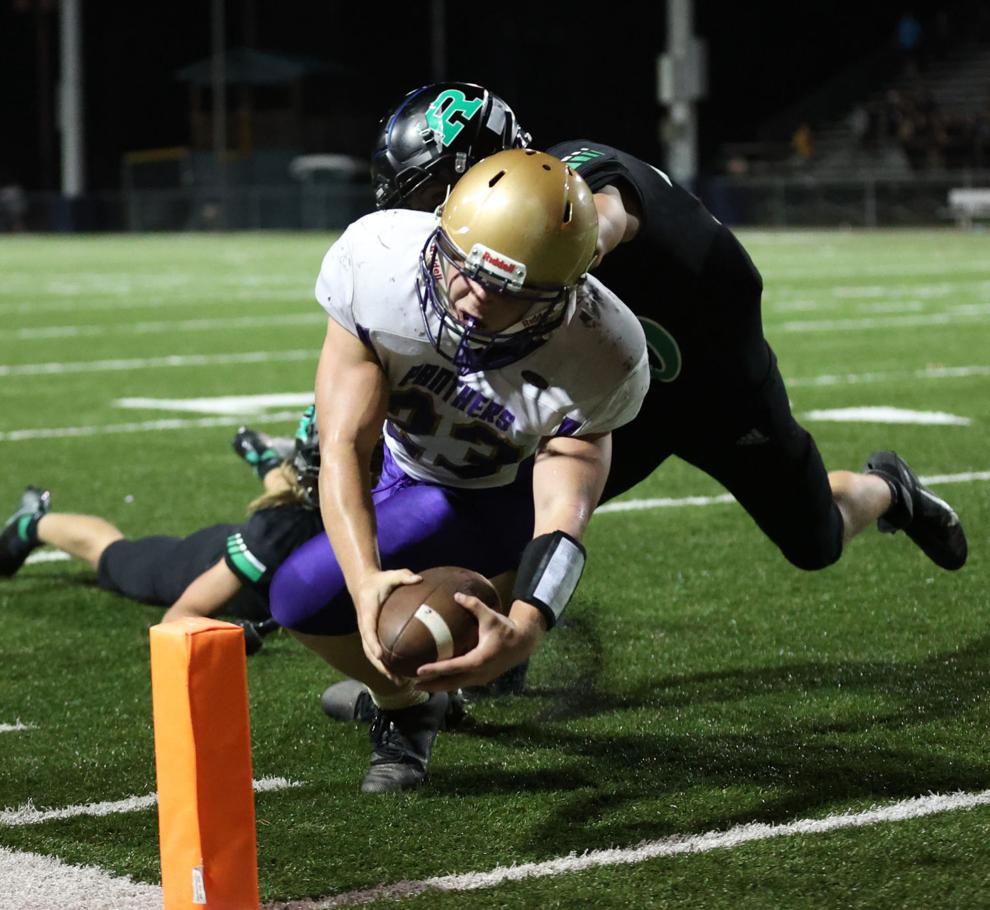 Rare air
Four-year starters come along in many high school sports from time to time.
A truly gifted basketball player whose body is ready can step into a varsity lineup on Day 1. A good young pitcher can throw against anybody in softball or baseball.
But in football, it's exceedingly rare. With the physical nature of the sport, freshmen usually aren't developed enough to step onto a field and immediately succeed against players several years older than them.
Of course, being smaller has never been a problem for Bauer. He took over a starting role on both offense and defense as a freshman, and led the team in rushing in his first year with the program.
"I think that just says a lot about his makeup," Rosemeyer said. "It takes a special kid. You just don't see that very often where he's physically mature enough to step in and do that. You get kids sometimes who want to and think they can, but when you put them in against juniors and seniors, they find out it's not as easy as it looks. But with Simon, a lot of his natural abilities came through. He was such a good athlete that he really didn't take many big hits."
Bauer was roughly the same height back then, but had yet to build in the weight room. He admitted he was nervous to make the leap to varsity, but he never showed it.
"I was really nervous because I was the smallest kid on the field every game," Bauer said. "It was tough, but you just had to be physical with them and try to get to their level. You had to play big."
He learned how to do that pretty quickly. Then he spent the next three years perfecting it.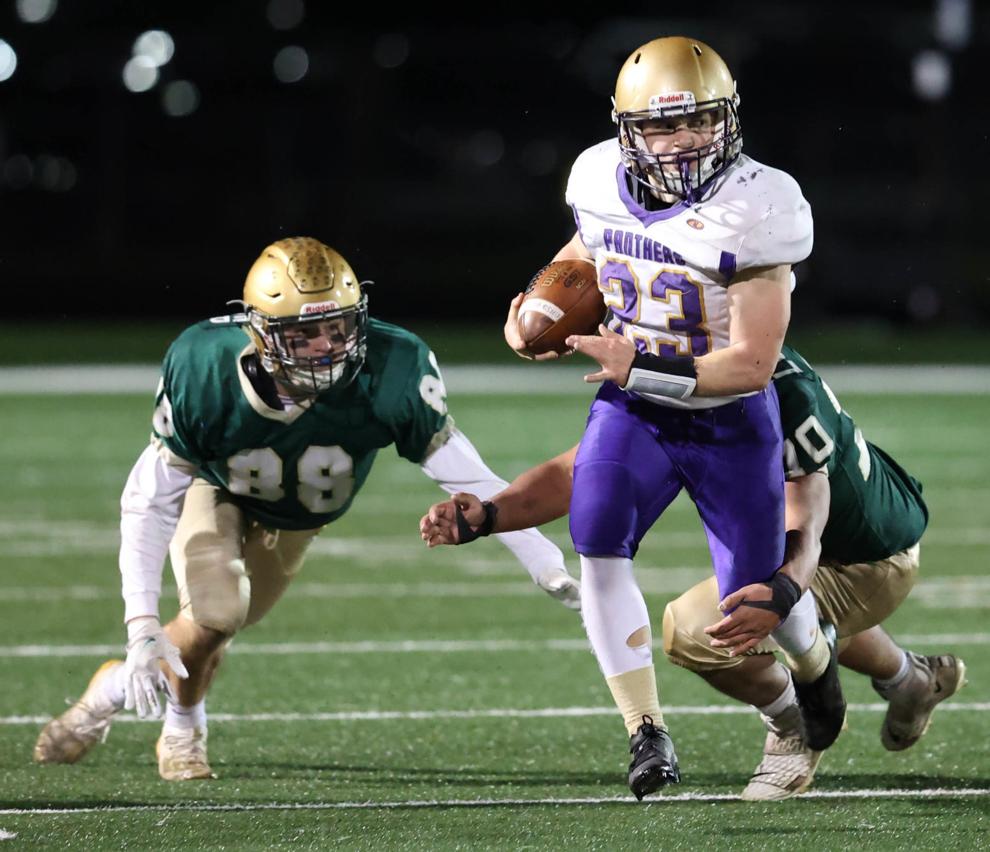 Sterling stats
Bauer quickly became one of the area's top backs as a sophomore and junior. He shouldered a heavy workload out of the backfield, but his unrelenting physicality kept him moving forward. He was as driven of a player in the weight room as Rosemeyer has ever coached.
And Bauer saved his best for last. His 2,805 rushing yards as a senior are the eighth-most in a single season in state history. His career total of 5,412 yards puts him 20th on the state's all-time chart.
"Those are numbers that I doubt will ever be duplicated," Rosemeyer said. "I hope we can some day, but I doubt they will."
Yards are easier to come by when you're that difficult to tackle.
"I think it just helps that I don't like to be tackled," Bauer said. "I don't want to be on the ground. I guess it was hard for guys to bring me down as long as I kept my legs churning."
Bauer was quick to credit his blockers — as the old saying goes, a running back is only as good as his offensive line — but even when he did get hit, it didn't usually didn't bring him down.
Coaches and defenders in the area certainly won't miss seeing him line up against them. Even the teams that Bauer and the Panthers beat couldn't help but be impressed.
"Strong and fast and durable," Mondovi coach Craig Loscheider said. "He always falls forward and rarely goes down on first contact."
"Ran really hard and cuts exceptionally well," Regis coach Bryant Brenner added. "Very good balance. What he did this year is amazing."
Bauer's numbers are impressive, but they're only part of the story.
Dual threat
Bauer is a running back by trade, but didn't play like a true one for most the season.
When starting quarterback Eli Whitwam was sidelined with a broken leg in early in the season, the Panthers turned to Bauer to take snaps. He was the backup, but didn't have much experience.
"He had to come into that spot in the middle of a game, and you could tell on a few plays that he hadn't really mastered the position," Rosemeyer said. "But he was a kid that you could put the ball in his hands, and he was going to make a play. More often than not, he was going to do the right thing even though he hadn't practiced a lot at that position."
After an early trial and error period, Bauer got accustomed to handling the role of signal caller. The Panthers would often have him take the snap for a direct run, and it worked far more often than it failed.
And when teams would sell out to stop him in the run game, Bauer had the arm to hit receivers over the top for a big play.
"It was quite the change, because I had to learn to throw the ball and get it to my receivers when they were open," Bauer said. "We had to switch our offense a little bit, be a little bit more dynamic."
One for the history books
With Bauer steering the offense and an equally impressive defense to match, the Panthers reached the state semifinals for just the third time in program history.
Durand fell to eventual state champion Colby 28-24 in the penultimate game of the season. It was the toughest game the Hornets got from a small school all year. Even the state runner-up, St. Mary's Springs, lost to Colby by 15.
The Panthers finished the season 11-2, with most of their wins coming by double figures. Coming into the fall, Bauer didn't think they'd hit such heights.
"Even going into this year, I didn't think were were going to be as good as we were," Bauer said. "I knew that we had put in the time in the offseason, but I didn't think we had the guys. But we really did. We had all the pieces, all 11 guys, and it turned out that we were really good."
Next chapter
Bauer would like to play college football next year, although he has no plans set in stone right now. He's had Division III schools interested in bringing him in, and he's looking around at Division II programs too.
He's done all he can at the high school level. Success followed him each step of the way, and that won't be forgotten soon in Durand.
"The lasting impression will be his leadership, his character and his work ethic," Rosemeyer said. "He was such a team player. He had no ego. He was quick to credit his teammates. He's an example of what can be done if you really work hard at it that we will talk about for many years to come."