He was a legend in his time.
As a youngster, he played in the band as a senior at Regis High School.
That would change – dramatically – in the following years.
He matured into a man of steel who could run with the sprinters and he would go on to play on four state championship teams in four different sports.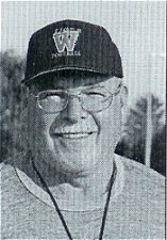 Eugene Golden, better known as Geno, died Saturday at the age of 85 accompanied by son Mark with close brother Fred on the way.
"As a person, people really looked up to him," said John Schaaf, retired executive director of the Eau Claire YMCA. "On the field you had to respect his determination and off the field, he was compassionate and caring."
Golden's major interest was football. He got a brief first taste in the late 1950s at St. Thomas while in school to prepare to stay in the family business, Golden Funeral Home.
Although moving into his late 20s a few years later, he had some unfinished business to attend to. He enrolled at UW-Eau Claire and joined the football team.
"It was just something he needed to do," said first team All-American quarterback Jim Van Gorden.
While Van Gorden's passes stung opponents and led to dramatic victories, Golden was a key man on the defensive unit, terrorizing backs with his quickness and reckless rush.
The Blugolds won the conference championship in 1963 and with most of the same players, scored a repeat title in 1964.
"On the field, I was never afraid of anybody with Geno on my side," Van Gorden said. "Against Stout, I remember him completely tipping over a blocking back and the guy walking away and saying 'I don't want anything more to do with him.'"
Golden was named to the all-conference and all-district teams, fulfilling his mission. Though much of his later life was spent in coaching.
There were those who felt Golden had the tools and determination to get a shot at pro football had it not been for his advancing age.
Golden spent a couple years coaching high school at Webster in the area he was living at the time, and served as an assistant at Regis and for many years as an assistant to Blugold head coach Link Walker, a man he admired.
While at Webster in the late 1990s, Golden's team faced Flambeau and heralded quarterback Jim Leonhard, who would walk on to become an All-American at Wisconsin and spend 10 years in the NFL as a defensive back.
When asked about the mercurial Leonhard, Golden replied, "We never laid a hand on him. Literally, we never laid a hand on him."
Golden later was inducted into the UW-Eau Claire Blugold Hall of Fame. He is also a member of the Wisconsin Football Coaches and Regis High School Hall of Fames.
Golden was also a standout in basketball, fastpitch softball, baseball and volleyball.
"People didn't realize he had to work very hard to become his best," Schaaf said. "He developed into a very good athlete."
Especially in basketball, where at 6-foot-1 he had to use his strength and quickness against taller foes. He retired as the second leading all-time scorer after 15 years in the YMCA Senior League, which featured players from six state college conference schools.
He played with Peters Meats, a nine-time state softball champion in the 1960s and finished later with H&L Clothiers. He also played on Tommy Miller's, Eau Claire's 1961 WBA state baseball championship team and was a thunderous spiker on Eau Claire's state YMCA champion volleyball team.
"He was a great, well-coordinated athlete, a great player and a great friend," said Van Gorden.
In his later years, he was visited weekly at his retirement home by a group of close friends proudly wearing "Geno's Golden Oldies" T-shirts.
Schaaf saw him as having somewhat of a split personality. He could become serious and explosive, but then an entertaining comedian.
"He made a difference in our community, he had so many friends," Schaaf said. "He was one of a kind, a special man."